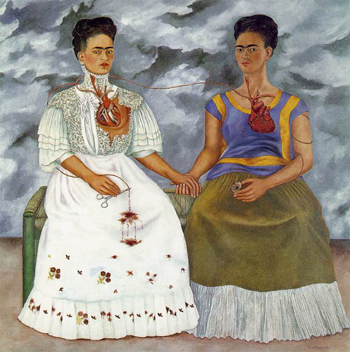 | | |
| --- | --- |
| Artist: | Frida Kahlo |
| Created: | 1939 |
| Dimensions (cm): | 173.0 x 173.0 |
| Format: | Oil on canvas |
| Location: | Museo de Arte Moderno, Mexico City |
The Two Fridas
"I am not sick. I am broken. But I am happy as long as I can paint." – Frida Kahlo
Frida Kahlo, wife of the renowned artist Diego Rivera, painted 'The Two Fridas' in 1939, during the time period of her painful divorce. The painting depicts an expressive double self-portrait that symbolizes the artist's twin-like, yet very separate entities. The two distinct Fridas are nevertheless linked together, not only by their hands, but also by the connecting cord that travels around them.
The Frida with the white European dress is a reflection of the woman that Diego no longer loves; hence the hand-held scissors that have severed the connection. Her exposed heart is broken and damaged, signifying her emotional anguish over her husband's cold betrayal, and her feelings of desolation at the failure of her marriage.
The other Frida is dressed in the traditional Mexican attire. She is openly displaying a whole and healthy heart, representing the woman that her beloved Diego passionately adores. In her hand, she holds a tiny oval shaped picture of Diego. Attached to the picture is a long cord, possibly an umbilical cord, symbolic of her role as both lover and mother to him.
The background is one of a turbulent sky, an appropriate illustration of the artist's conflicting emotions. Frida Kahlo claimed that she painted her own reality. In this case, "The Two Fridas" well reflect the inner and outer experience of her impending divorce from Diego.
"I suffered two grave accidents in my life. One in which a streetcar knocked me down... The other accident is Diego" – Frida Kahlo
Review on the Artist
"Mexican artist Frida Kahlo began painting in 1926, while recovering from a near-fatal bus accident, and soon became captivated by the medium's expressive possibilities. Kahlo's folkloric style, influenced by Mexican popular art, and her fantastical imagery earned her recognition among the Surrealists, but her intriguing persona and unmistakable originality propelled her beyond the confines of a specific movement to become a leading figure in modern art." – San Francisco MOMA
'The Two Fridas' by famous artist Frida Kahlo is located at the Museo de Arte Moderno in Mexico City.

Home | Art Prints | Art Movements | Famous Artists | Articles