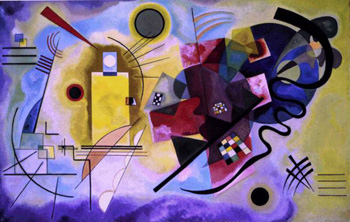 | | |
| --- | --- |
| Artist: | Wassily Kandinsky |
| Created: | 1925 |
| Dimensions (cm): | 200.0 x 127.0 |
| Format: | Oil on canvas |
| Location: | Musée National d'Art Moderne, Centre Georges Pompidou, Paris, France |
In 1925, Wassily Kandinsky created the oil painting entitled 'Yellow, Red, Blue', a remarkable display of colourful geometric art. Said to be the father of abstract art by many art critics, reviewers, and viewers alike, Kandinsky produced a tableau vibrant with colours that delicately blended together in some areas, and boldly contrasted in others. The various shapes that make up this picture spark the imagination, bringing forth images of people, objects, and dimensions. The focal point of the composition appears to be the face-like shape on the left of the canvas, but it battles for attention with the dark blue tones that border the right side.
Wassily Kandinsky painted this composition during the years he spent at the Bauhaus School of Art and Architecture where he was teaching; they would become the most productive years in his career. This artist's intent through all of his paintings was to create the same emotional journey as that of a powerful song. Oddly enough, 'Yellow, Red, Blue' was recently used in a neuro-scientific experiment that suggested that sight and hearing are very closely linked.
Analysis and Quotes
Here is Kandinsky's statement regarding abstract art: "Of all the arts, abstract painting is the most difficult. It demands that you know how to draw well, that you have a heightened sensitivity for composition and for colors, and that you be a true poet. This last is essential."
Magdalena Dabrowski (Kandinsky: Compositions) remarked on the artist's creative style: "Music can respond and appeal directly to the artist's "internal element" and express spiritual values, thus for Kandinsky it is a more advanced art. In his writings Kandinsky emphasizes this superiority in advancing toward what he calls the epoch of the great spiritual."
'Yellow, Red, Blue' by Wassily Kandinsky is currently located at the Musée National d'Art Moderne, Centre Georges Pompidou, Paris, France.
Home | Art Prints | Art Movements | Famous Artists | Articles