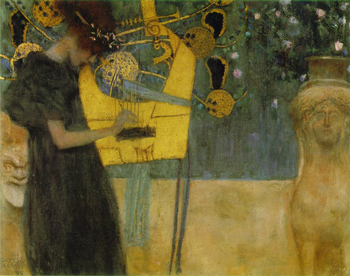 | | |
| --- | --- |
| Artist: | Gustav Klimt |
| Created: | 1895 |
| Dimensions (cm): | 45.0 x 37.0 |
| Format: | Oil on canvas |
| Location: | Neue Pinakothek, Munich, Germany |
Music I
While Gustav Klimt was most famed for his unique style and often erotic work, many of his paintings are slightly reminiscent of the traditional art of his time, one of which is 'Music I', created in 1895. Klimt produced numerous paintings with an allegorically musical theme.
Description and Analysis
Highly harmonious in nature, 'Music I' depicts a woman strumming a lyre meditatively, her black dress and bowed head implying a trance-like state induced by a melodic rhythm. The lyre, a traditional symbol of music, is painted in bright and bold colors, immediately drawing the viewer's attention upon first glance. A statue on the right conjures images of a sphinx, boasting artistic freedom, a tactic which Klimt continuously employed and demonstrated in his paintings. To the far left, he introduced a mask of Silenus, a notable symbol found in a number of his works to signify "buried instinctual forces" (Fin-de-siècle Vienna: Politics and Culture - Carl Emil Schorske)
While 'Music I' may appear to have been created using a relatively conservative approach in contrast to Klimt's common controversial style, the artist still managed to add his unique artistic signature, which consists of ornamental features in remarkably vivid colors that bring about a sense of familiarity.
About the Artist
Gustav Klimt was celebrated for his highly decorative paintings, many of which were catalogued as eroticism. Although his distinctive methods prompted ample controversy over the course of his career, he nevertheless succeeded in becoming one of the most important artists to emerge out of Vienna. In 2012, the city of Vienna held many special exhibitions honouring the 150th anniversary of Klimt's birth. His paintings have attained some of the highest prices recorded for individual works of art.
A Bit of History
Greek businessman and supporter of the arts, Nikolaus Dumba, commissioned some artists, including Gustav Klimt and Franz Matsch, to create paintings for two rooms in the Palais Dumba in Vienna. In 1937, the Palais was liquidated and the inventory was sold.
'Music I' is currently located at the Neue Pinakothek in Munich, Germany.

Home | Art Prints | Art Movements | Famous Artists | Articles