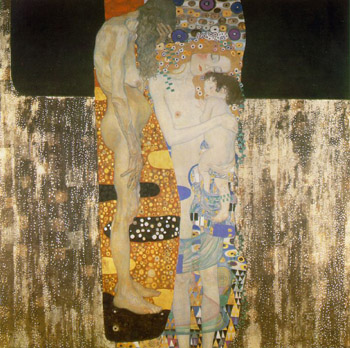 | | |
| --- | --- |
| Artist: | Gustav Klimt |
| Created: | 1905 |
| Dimensions (cm): | 198.0 x 178.0 |
| Format: | Oil on canvas |
| Location: | Galleria Nazionale d'Arte Moderna, Rome, Italy |
The Three Ages of Woman
In 1905, Gustav Klimt created 'The Three Ages of Woman', also known as 'Mother and Child'. It was the artist's first oil painting in the large scale category. It is believed to represent three main stages of a woman's life: infancy, motherhood, and old age.
The mother with child on the right of the canvas is a stunning representation of the beauty and love of motherhood, as well as the stage of infancy. The mother holds her infant in a warm, secure embrace, offering unconditional love. The sleeping child's face shows content as a result of the overwhelming affection.
The left side of the canvas shows the last stage of a woman's life, which Klimt chose to depict as a worn out, old woman, who is withering away. Her hand over her face not only implies that she has had enough of life, but also suggests that she needs to hide. The harsh, brown background that immediately captures the viewer's attention symbolizes the ground, showing her body already half-buried.
Analysis and Quote
Over the years, "The Three Ages of Woman", a remarkable painting, has ignited much controversy amongst women who view the art work as lacking in appropriate symbolism to the enduring strength of women. Many feminists believe that the painting's subtle message is that a woman's most significant role in life occurs when she is a young mother.
In response to his inability to overcome his fear of public speech, Gustav Klimt stated: "Whoever wants to know something about me--as an artist, the only notable thing--ought to look carefully at my pictures and try and see in them what I am and what I want to do."
"The Three Ages of Woman" by Gustav Klimt is currently located at Galleria Nazionale d'Arte Moderna in Rome.
Home | Art Prints | Art Movements | Famous Artists | Articles