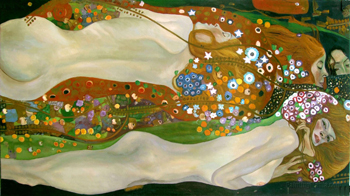 | | |
| --- | --- |
| Artist: | Gustav Klimt |
| Created: | 1904-07 |
| Dimensions (cm): | 145.0 x 80.0 |
| Format: | Oil on canvas |
| Location: | Private collection |
Water Serpents II
It was rather unusual for Gustav Klimt to paint males in his art work; his passion for creating alluring and sensuous females - both naked and clothed – was often regarded as an obsession. 'Water Serpents II' (also known as "Biscie d'acqua II") indicates his feverish appetite for displaying women in an erotic, yet beautiful state.
This painting displays four women lying encompassed in a watery enclosure. Two of them are elongated and fully nude, with long flowing hair that is decorated with ornaments reminiscent of the sea. Small stars and circles remind us of starfish and barnacles, while broad brushstrokes of green hues are suggestive of seaweed. On the far right, two other women can be perceived, merely their heads showing, in rather odd resting positions. It is interesting to note that three of the females are light-haired whilst one is a brunette.
Klimt's "Water Serpents I" proposed a theme of lesbianism (two nude women embracing each other). Even though the females in the second version are not entwined together, the theme nevertheless prevailed, contrived by the artist's skill in demonstrating sensuality and eroticism.
Water in Art
Over the centuries, many artists, including Gustav Klimt, have depicted some form of water in their paintings in order to introduce symbolism, be it a river, lake, ocean, or small pool as in Klimt's 'Water Serpents II'. Although the approach varies from artist to artist, water is commonly used to signify change because it continually transforms its shape and flow. Moreover, it cleans and purifies, suggesting a purging of the soul from impurities. Water is often used as a means for representing fertility and birth.
About the Artist
Gustav Klimt was most celebrated for his extremely ornate and elaborate paintings, many of which were catalogued as eroticism, including his famed 'Water Serpents II' creation. His sensual approach to art created considerable controversy over the course of his career, and he was coined a rebel in the art world during a time in Vienna when traditional academic art was customary. Nevertheless, he succeeded in becoming one of the most important artists to emerge out of the history of Vienna. To date, Klimt's paintings have brought some of the highest prices recorded for individual works of art.

Home | Art Prints | Art Movements | Famous Artists | Articles