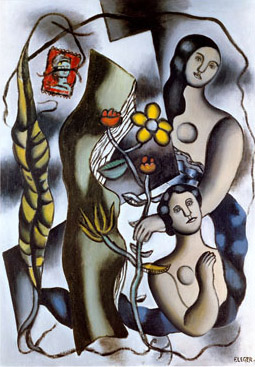 | | |
| --- | --- |
| Artist: | Fernand Leger |
| Created: | c.1932-48 |
| Dimensions (cm): | 65.4 x 92.3 |
| Format: | Oil on canvas |
| Location: | Guggenheim Hermitage Museum at the Venetian, Las Vegas, United States |
Postcard
In 1932-1948, artist Fernand Leger created a beautiful scene with two women surrounded by a hard, silvery grey background, and titled it 'Postcard'. The background holds the mechanical inspiration that so many of his paintings held after 1918 - cold, metallic-like shapes, and crisp, sharp colors. Leger abandoned much of his color pallette after World War One, and began working with the basics of the primary colors, as well as blacks and whites. The identity of the two individuals is unknown; they could possibly have been produced from Leger's imagination. The women, together with the flowers and feather-like foliage, represent the beauty and softness that can exist amidst the harshness of the world. Attention is brought to the red stamp that hangs on the wall at the back of the scene (possibly the Queen of England), reinforcing the concept that this painting is meant to be a postcard.
From 1914 to 1917, Leger spent some time in the military at the front line, which provides some understanding to the "mechanical" tendency in his work. He carried images of machines and war-like structures with him. The cold, metallic colors and shapes also stem from this period in his life.
Analysis and Quote
Referring to his transition from the more common form of abstract art, Fernand Leger provides us with this explanation: "It was the magic of light on the white metal. That's all it took for me to forget the abstract art of 1912-1913. The crudeness, variety, humour, and downright perfection of certain men around me, their precise sense of utilitarian reality and its application in the midst of the life-and-death drama we were in made me want to paint in slang with all its color and mobility."
'Postcard' by Fernand Leger is currently located at the Guggenheim Hermitage Museum at the Venetian in Las Vegas, Nevada, United States.
Home | Art Prints | Art Movements | Famous Artists | Articles