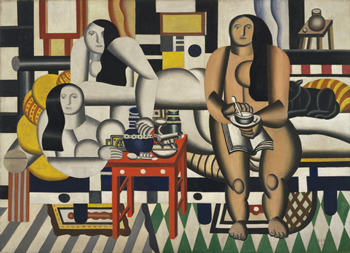 | | |
| --- | --- |
| Artist: | Fernand Leger |
| Created: | 1921-22 |
| Dimensions (cm): | 251.5 x 183.5 |
| Format: | Oil on canvas |
| Location: | Museum of Modern Art, New York, NY, U.S.A. |
Three Women
French artist, Fernand Léger, created 'Three Women' in 1921-22. This oil on canvas appears to be a translation from a common theme among many artists – the reclining nude – to a modernized interpretation.
A collective of women on a sofa are having tea, their bodies disproportioned and incredibly plump, with smooth flowing lines and bold contours. Léger once stated in regards to this unique style: "Enormous enlargements of an object or a fragment give it a personality it never had before, and in this way, it can become a vehicle of entirely new lyric and plastic power".
On the left of the canvas, two of the women are colored in grey, while the woman sitting on the right of the canvas has a vivid skin tone, which draws the viewers' immediate attention. Holding her cup over an open book, she could be reading to her companions, although her stare is directed frontwards.
The background brings Léger's passion for innovation into play. A chic apartment adorned with bold colors and geometric dimensions change the artistically classical setting into a busy melody of modern machinery and technology. In addition, the three women show off glossy black, flat-ironed straight hair, brushed to one side; signifying yet another element of a contemporary stylistic approach.
About the Artist
Fernand Léger first started his career with a personalized form of Cubism, but gradually shifted from that technique to a more popular, modern style of art. Léger's mechanical period lasted from approximately 1918 to 1923, which reflected his obsession with innovation and modernization of the time. This fixation eventually led him to become one of the great masters of the modern art movement.
Due to his use of bold geometric shapes and vibrant color schemes, Léger's modern paintings cleverly suggested mechanisms and technologies in the dawn of an era of urban architecture, progressive transportation, and time-saving equipment. His exploitation of unconventionally simplistic forms creates a complexity of visions and emotions in his artwork.
'Three Women' by Fernand Léger is currently located at the Museum of Modern Art in New York, NY, U.S.A.

Home | Art Prints | Art Movements | Famous Artists | Articles