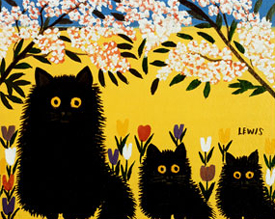 | | |
| --- | --- |
| Artist: | Maud Lewis |
| Location: | Art Gallery of Nova Scotia, NS, Canada |
Maud Lewis is one of Canada's best known and best loved folk artists. She painted an exuberant world full of joy despite the fact that she lived a life with very few luxuries and that her hands were crippled with arthritis and her shoulders were hunched from birth defects. She painted animals, children and her surroundings. Maud had a love of animals and children and often painted scenes with children happily running about playing with or looking after animals.
Cats were a favorite theme and crop up often in her paintings. Her family always had cats and she adored them. Three Black Cats is typical of paintings done by Maud Lewis. As can be seen in this painting she liked to paint bright eyed kittens. Often they were surrounded by butterflies and flowers. This painting has a very innocent quality to it. The cats look playful and full of mischief. The flowers are bright and cheerful and the garden looks like an ideal place to run about chasing these very same little.
Cats brought great joy to Maud's life and she has managed to capture this in this painting. It is hard to smile and when you see this picture. For cat lovers Three Black Cats is an ideal picture to hang on a wall. Cats are a theme that Maud returned to again and again. Other themes she returned to again and again in her paintings are: fishing boats which she became familiar with when she lived in Digby, Nova Scotia and studied the seaside life, and the old Model T car that Everett owned. Her paintings often showed the two of them driving in their car.
Home | Art Prints | Art Movements | Famous Artists | Articles