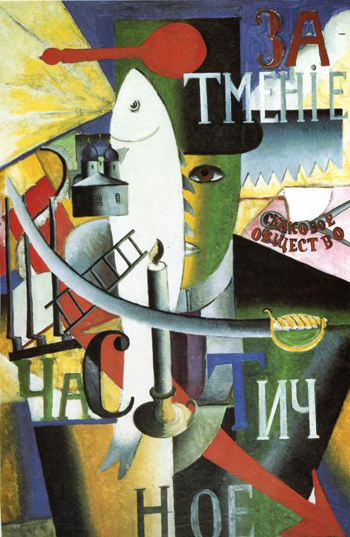 | | |
| --- | --- |
| Artist: | Kasimir Malevich |
| Created: | 1914 |
| Dimensions (cm): | 57.0 x 88.0 |
| Format: | Oil on canvas |
| Location: | Stedelijk museum, Amsterdam, Netherlands |
An Englishman in Moscow
In 1914, Kasimir Malevich, the original creator of the Suprematist movement, created 'An Englishman in Moscow', an oil painting on canvas. Malevich had moved away from his traditional geometric shapes and cold, stern structures, and had begun introducing vibrant colors and interesting forms to his art work.
'An Englishman in Moscow', a busy scene consisting of a man partially covered by a bold white fish, a sword and a candle, is a collection of objects, letters, and signs, which could possibly represent a Moscow market place or some crowded street of the historic city. Regardless of the location, the painting is a flurry of symbols and meanings uniquely significant to the artist.
Analysis and Quotes
Some theorists, critics, and viewers believe that 'An Englishman in Moscow' is an approach to the idea that nothing in reality is what it seems; others have suggested it implies that something is always concealing something else. Each symbol in this painting possesses a purpose. The ladder is known to symbolize the attainment of a higher truth or perspective, while the religious symbols, the candle, the church, and the cross created by the sword could indicate a renewal of faith. The writing at the bottom of the canvas is a broken word meaning hourly, a symbol for time. The fish is often associated with knowledge, and the violent images such as the saw, scissors, and sword, could possibly represent the cutting away of the garbled lies and confused information fed to human kind in order to reveal the knowledge of truth.
In a review of a Kasimir Malevich show in the early 1990's, Michael Brenson wrote a special article for the New York Times: "Malevich did not want to be nature, unlike many artists in the tradition of Monet and van Gogh. He did not move step by step from nature to abstraction, like Mondrian. He wanted to get beyond nature and define a new reality in which the part would merge with the whole and human and cosmic laws would be combined. His Suprematism is a sudden, jolting leap."
'An Englishman in Moscow' by Kasimir Malevich is currently located at the Stedelijk museum in Amsterdam, Netherlands.
Home | Art Prints | Art Movements | Famous Artists | Articles