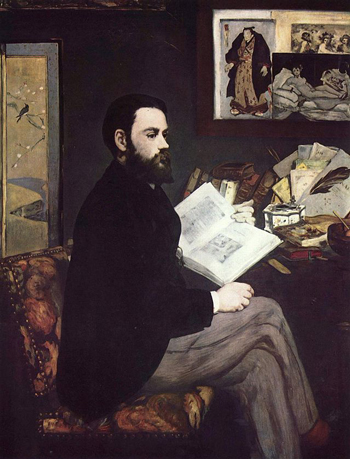 | | |
| --- | --- |
| Artist: | Edouard Manet |
| Created: | 1868 |
| Dimensions (cm): | 114.0 x 146.5 |
| Format: | Oil on canvas |
| Location: | Musee d'Orsay, Paris, France |
Portrait d'Emile Zola
Édouard Manet painted 'Portrait d'Emile Zola' in 1868 in an act of gratitude towards Emile Zola for having praised him in an article he had written for "La Revue du XXe siècle" in 1866. The writer/journalist had defended the artist against those who criticized his unique techniques and his bold breach with traditional themes. Zola considered Manet to be one of the future masters, whose audacious artwork belonged in the Louvre.
Manet painted Zola in his studio, amidst a scene created to reflect Zola's individuality. In the background, the artist's notorious painting titled "Olympia" hangs on the wall, a piece that initiated intense scandal at the 1865 Salon. Nevertheless, Zola regarded it as Manet's best work. Also displayed behind Zola is an engraving of "Bacchus" by Spanish artist Velazquez, as well as a Japanese print by Utagawa Kuniaki II; both pieces reveal the modernized concepts of color use and perspectives in the progress of European painting.
Seated at his work table, Zola holds a book and appears to be in deep thought. An ink pot and a feather quill displayed on the desk cleverly denote his profession in writing. When Édouard Manet painted 'Portrait d'Emile Zola', he solidified a long-lasting and loyal friendship between the two aesthetes.
Emile Zola
Emile Zola was a childhood friend of painter Paul Cezanne, and thus developed an interest in art early in life. In time, he grew increasingly fascinated with artists, especially those who were rejected by the art critics. Being a professional writer, Zola published subjective articles, many of which sparked much controversy and debate, and among them was the 1867 publication which contained the editorial on Manet's work. The article is in a slim brochure with a blue cover, which can be seen on the desk in the painting 'Portrait d'Emile Zola'.
About the Artist
Born into a family with strong political ties, Édouard Manet had a keen interest in painting from an early age, much to his parent's disapproval. At the age of sixteen, his father, Auguste Manet, pressed for Édouard to embark on a training vessel to Rio de Janeiro; however, he failed the mandatory exam twice. His father eventually relented and allowed Édouard to pursue a career in painting.
Manet studied diligently under Thomas Couture, a prominent French history painter. During his free time, he visited the Louvre, creating copies of paintings from the old masters of fine art. In 1856, he opened an art studio, which was the beginning of his controversial, yet inspiring artistic career.
'Portrait d'Emile Zola' is currently located at the Musee d'Orsay in Paris, France.

Home | Art Prints | Art Movements | Famous Artists | Articles