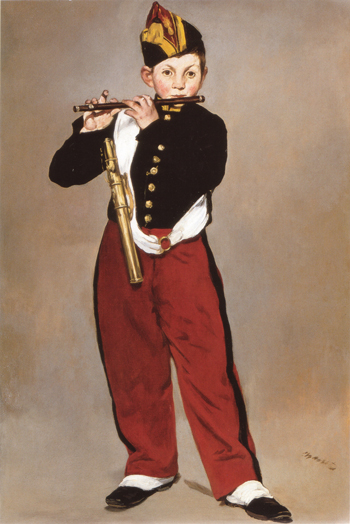 | | |
| --- | --- |
| Artist: | Edouard Manet |
| Created: | 1866 |
| Dimensions (cm): | 97.0 x 161.0 |
| Format: | Oil on canvas |
| Location: | Musee d'Orsay, Paris, France |
The Fifer
'The Fifer' was created in 1866 by renowned painter Édouard Manet upon his return from a trip to Spain. Impressed by Spanish artist Velasquez's painting "Pablo de Valladolid", Manet once remarked, "[It is] the most astonishing piece of painting ever done... the background disappears: it is air which surrounds the fellow, dressed all in black and full of life". (Musée d'Orsay) 'The Fifer' is Manet's personal reflection of Spanish artistry.
The composition holds low depth due to the fact that horizontal and vertical surfaces are scarcely evident. The figure stands amidst a background that appears non-existent, with broad brushstrokes of faded hues that work in unison to create a backdrop of endless space. The slight shadow at the fifer's foot produces the sole presence of solidity in the dreamy setting. In deliberate contrast, the teenage musician is painted with dense, bold and vibrant colors. Édouard Manet skilfully created a flutist that appears captured mid-note.
History
Édouard Manet submitted 'The Fifer' to the Paris Salon in 1866, at which time it was rejected along with many other of the artist's paintings. However, Emile Zola had a passion for Manet's work, and subsequently wrote a series of articles in the newspaper "L'Événement", in defence of Manet's artistry. 'The Fifer' was exhibited the following year and its masterful composition was recognized. After Manet's death in 1883, the painting was displayed at a major retrospective of his works as a tribute to his life and career.
Provenance
• 1872 -1873: Durand-Ruel collection (purchased from the artist)
• 1873-1893: Jean-Baptiste collection
• 1893-1894: Durand-Ruel collection
• 1894-1911, Count Isaac de Camondo Collection
• 1911: Accepted by the state as a legacy of Count Isaac de Camondo
• 1911: Attributed to the Louvre, Paris
• 1911-1947, Louvre, Paris (on view from 1914)
• 1947-1986, Louvre, the Jeu de Paume gallery in Paris
• 1986: Assigned to the Musée d'Orsay, Paris
About the Artist
Édouard Manet was born into a politically-connected family. Though he had a keen interest and obvious talent in painting from an early age, his parents were not enthusiastic about his career choice. His father, Auguste Manet, pressured his sixteen year old son to embark on a military training vessel to Rio de Janeiro; however, Édouard failed the mandatory exam twice. Thankfully for all admirers of Manet's works, Auguste eventually relented and allowed Édouard to pursue a career in painting.
In 1983, to mark the centennial of Manet's death, many exhibitions were held in celebration of his life and work. In 2013, approximately 80 paintings, drawings, and prints were shown at the "Manet. Return to Venice" exhibition; it was the largest showing of his works ever in Italy.
'The Fifer' is currently located at the Musée d'Orsay in Paris, France.

Home | Art Prints | Art Movements | Famous Artists | Articles