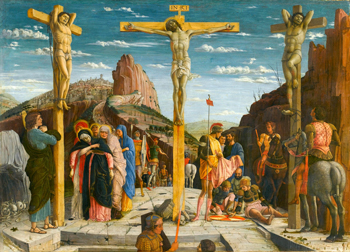 | | |
| --- | --- |
| Artist: | Andrea Mantegna |
| Created: | 1457-59 |
| Dimensions (cm): | 96.0 x 76.0 |
| Format: | Wood |
| Location: | Musee du Louvre, Paris, France |
Calvary
'Calvary', also known as "Crucifixion", was part of a commission that Andrea Mantegna wholly dedicated his time to between 1456 and 1459. The commissioner, Gregorio Correr, who was the Abbot of the Basilica of San Zeno, requested Mantegna to create this long-celebrated altar piece.
One of six large panel paintings titled 'Calvary' is the center panel on the predella, the platform on which the altar stands. The scene is a masterful demonstration of artistic perspective, beginning with the figures in the foreground at the bottom of the picture. Cut off by the frame, they assist in intensifying the effect of declination. Because the lines of the stone curve slightly inwards and taper, the aspect of dimension is accentuated.
Jesus Christ is the painting's focal point; his cross bears the initials I.N.R.I (Iesus Nazarenus, Rex Iudaeorum) scripted at the top, which translates to "Jesus the Nazarene, King of the Jews". To his left and right are criminals who hang on crosses that are slightly turned inwards, adding to the linear view, as does the mountain ridge at the far right. Atmospheric perspective is also notable in the fading color gradient of the sky, shifting from dark to light and eventually merging with the far off landscape.
Andrea Mantegna was passionate on the topic of nature, as evidenced in the meticulous details in the background's natural setting, down to the tiniest elements in the faint and distant horizon.
About the Artist
At the early age of eleven, Andrea Mantegna became the apprentice of painter Francesco Squarcione, in Padua, Italy. Mantegna, a favored student of Squarcione, was taught not only how to paint but also how to study fragments of Roman sculpture. He learned Latin as well. When Andrea was seventeen years old, he left his instructor on bad terms, claiming that Squarcione profited from his work without paying him his share.
The young artist went on to achieve a profitable and successful career in painting and engraving. He became well known for painting heroic figures and for his skill in producing dramatic perspective in scenes that gave the viewer an illusion of looking up from below, as if looking up at a large sculpture, a technique that is well-demonstrated in 'Calvary'.
In time, Mantegna's work became a legacy. It is said that he influenced other famed artists such as Leonardo da Vinci and Albrecht Durer, who took from Mantegna his distinctive use of decoration and style.
'Calvary' is currently located at the Musée de Louvre, Paris, France.

Home | Art Prints | Art Movements | Famous Artists | Articles