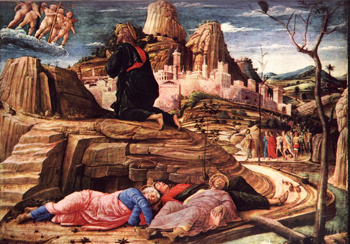 | | |
| --- | --- |
| Artist: | Andrea Mantegna |
| Created: | 1458-60 |
| Dimensions (cm): | 80.0 x 63.0 |
| Format: | Tempera on wood |
| Location: | National Gallery, London, England |
The Agony in the Garden
'The Agony in the Garden', a biblical scene, is one of Andrea Mantegna's most notable works of art. The Italian painter, who married Nicolosia Bellini, became fellow artist Giovanni Bellini's brother in law. Concurrently, they created their own unique versions of 'Agony in the Garden.'
This particular version by Mantegna, created between 1458 and 1460, represents a brief moment during the final days in the life of Jesus Christ. In the background, Judas is approaching with arresting soldiers as loyal disciples sleep near Christ's feet.
Several elements of a symbolic nature can be recognized in the composition. While a group of angels are showing an ill-omened cross to Christ, a black vulture perched on a tall dead tree at the far right indicates his imminent death. Conversely, the pelicans and new growth of foliage are signs of hope for mankind's future. There are a number of rabbits in the picture, creatures that are often used in paintings as emblems of rebirth, or in this case, more appropriately, a resurrection.
History
Andrea Mantegna created another version of 'The Agony in the Garden', which is dated between 1457 and 1459. According to the National Gallery, this representation is most likely the predecessor to the one created between 1458 and 1460. The original is a reverse arrangement, whereby the disciples are positioned differently. The composition of the later version is superior with regard to artistic eloquence, giving the scene a more dramatic atmosphere.
About the Artist
At the early age of eleven, Andrea Mantegna became the apprentice of the painter Francesco Squarcione, in Padua, Italy. Andrea was said to have been a favored student of Squarcione, who taught him Latin and how to study fragments of Roman sculpture. By seventeen, Mantegna left his instructor claiming that Squarcione profited from his work without paying the rights. After this separation, he left Padua, never to resettle there again. - Wikipedia
The aspiring artist went on to achieve a profitable and successful career in painting and engraving. In time, his work became a legacy on account of its influence on other renowned artists such as Leonardo da Vinci and Albrecht Durer, who are said to have used Mantegna's style of decorative art.
It is believed that a particular drawing by Jacopo Bellini (Mantegna's father in law) might have inspired both Andrea Mantegna and Giovanni Bellini to paint this biblical scene. Andrea's adaptation of 'The Agony in the Garden' is currently located at the National Gallery, London, UK, as is Jacopo's version.

Home | Art Prints | Art Movements | Famous Artists | Articles