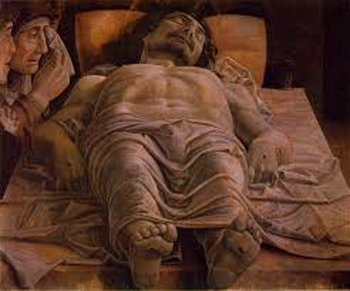 | | |
| --- | --- |
| Artist: | Andrea Mantegna |
| Created: | 1490 |
| Dimensions (cm): | 81.0 x 68.0 |
| Format: | Tempera on canvas |
| Location: | Pinacoteca di Brera, Milan |
The Lamentation over the Dead Christ
While there is some debate over the painting's actual date, Andrea Mantegna created 'The Lamentation over the Dead Christ' most likely in 1490. Once again, Mantegna utilizes his remarkable techniques in perspective, only this time, he constructed the scene with an illusion that virtually "pursues" the spectator around the room. The effect appears to begin in the area of the grieving couple at the left of the body and follows to Christ's feet in the foreground.
While lament over Christ's death was a common theme in Renaissance paintings, most often, significant contact was obvious between the mourners and the body, with striking contrasts in light and richness in color. Here, however, Mantegna chooses to place a drastic distance between the lamenters and the corpse, and opted for a dismal color scheme.
The attribute of realism in 'The Lamentation over the Dead Christ' is almost shocking. Note the convincing details of the body: the pierced holes in the feet and hands, along with the pallor of Christ's body, evoke the intense emotions associated with elements of tragedy. The sheet draped over the bottom half of the corpse is defined with sharp lines and folds, adding to the powerful impact of the scene. The detailed aspects of the weeping facial expressions on the two grieving figures clearly convey a sense of loss and enhance the tragic aura of the scene.
The viewer's attention is directed on Jesus Christ's genitals, which was common practice among artists at the time, especially with illustrative figures of Christ as an infant. The concept is said to be related to a theological emphasis on the humanity of Jesus by Leo Steinberg and others. - Wikipedia
About the Artist
At the early age of eleven, Andrea Mantegna became the apprentice of painter Francesco Squarcione, in Padua, Italy. Mantegna became a favored student of Squarcione, who showed him how to study fragments of Roman sculpture and taught him Latin as well. At seventeen, Mantegna left his instructor on bad terms, claiming that Squarcione profited from his work without paying the rights.
The young artist went on to achieve a profitable and successful career in painting and engraving. He became well known for his dramatic perspectives; these unique visual effects are well-demonstrated in 'The Lamentation over the Dead Christ'.
In time, Mantegna's work became a legacy, on account of his alleged influence on other famed artists such as Leonardo da Vinci and Albrecht Durer, who are said to have taken from Mantegna his use of decoration and style.
'The Lamentation over the Dead Christ' is currently located at the Pinacoteca di Brera in Milan.

Home | Art Prints | Art Movements | Famous Artists | Articles