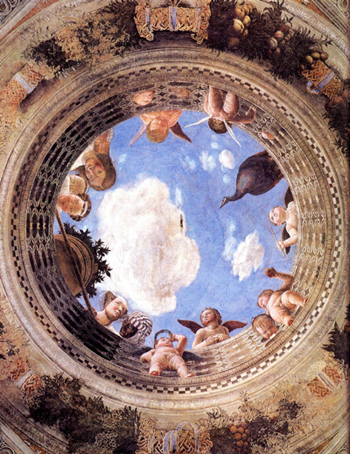 | | |
| --- | --- |
| Artist: | Andrea Mantegna |
| Created: | 1473 |
| Dimensions (cm): | 270.0 x 270.0 |
| Format: | Fresco |
| Location: | Palazzo Ducale, Mantua |
The Oculus
In some people's opinion, Andrea Mantegna was the forefather of the art of painting with an illusional magic, a style now used by many artists. 'Camera Degli Sposi - The Oculus' was perhaps one of his most intriguing works of art.
Mantegna's commission was to decorate the Camera Degli Sposi (the bridal chamber) of the Palazzo Ducale, home to the Gonzagas, Mantua's most powerful and influential family. Completed in 1473, the work consists of a painted, dome-like "lookout", or oculus, on the ceiling, with the scene continuing down the walls. It is not only a masterpiece in perspective, but also a skilful arrangement of portraits representing members of the Gonzaga family. The overall scene gives the viewer the illusion of looking up into the sky while fictional viewers are peering down into the room. The young cherubs and figures leaning over the balustrade represent some of the courtyard visitors who regularly made an appearance at the Palazzo Ducale, giving modern-day viewers a glimpse back through time at who was considered important enough to attend courtyard life. Mantegna needed to be exact in his sizing and in his use of light in order to bring a three-dimensional effect to a two-dimensional object.
The art work took Andrea Mantegna nine years to complete, and it is the only Fresco style art work that remains from Mantegna in its original location. The painting is also known as "trompe l'oeil", which literally translates from French to "fools the eye."
Analysis and Quotes
The following excerpt well-describes Mantegna's 'The Oculus': "A mastery of perspective is displayed, but also, in the representations of the Gonzaga family and court, Mantegna's skill as a portraitist. Perhaps the most significant part of the scheme is the painting of the ceiling, the middle of which is illusionistically opened up to the sky for the first time since antiquity." – From "The Bulfinch Guide to Art History
'The Oculus' by Andrea Mantegna is located in the Palazzo Ducale, Mantua, Italy.
Home | Art Prints | Art Movements | Famous Artists | Articles