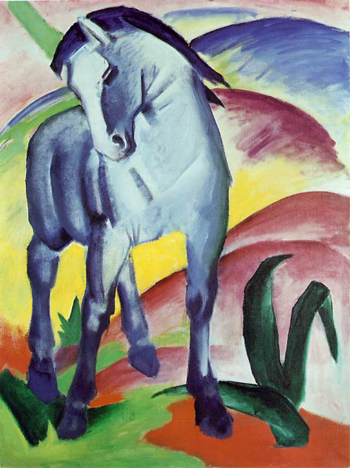 | | |
| --- | --- |
| Artist: | Franz Marc |
| Created: | 1911 |
| Dimensions (cm): | 84.5 x 112.5 |
| Format: | Oil on canvas |
| Location: | Stadtische Galerie im Lenbachhaus, Munich, Germany |
Blue Horse I
By the time Franz Marc painted Blue Horse I, the artist was coming into his own. He was painting with a budding confidence of his own technical ability, which found reflection here. Blue Horse I, with its serene colors, harmonious construction, and powerful equine presence, exudes authoritative execution.

Also notable, of the changing sensibilities Marc exhibited here, is the landscape. Its pristine hillocks are rendered like separate entities, but all linked by the glowing yellow mist in the valleys. They form a backdrop of almost mythic beauty upon which the horse is presented; it is a far more idealized landscape than those present in earlier works by Marc.

Said horse, naturally, is the most important aspect of the painting. The animal is facing us, all four hooves firmly planted on the ground. Yet, it seems weightless, as though it is hovering just above the radiantly-colored ground. Marc achieved this effect through contrast: two of the horse's hooves are on ground that is shaded bright red. The contrast with the soft blue color of the horse gives the two differently-colored elements an appearance of mutual repulsion. The hooves look almost as though they are not on the ground, but just above it.

The horse's color is not just a means of producing this contrasting effect however. Marc often used color symbolism in his paintings: blue represents things male, severe, and, most importantly, spiritual. The animal is also youthful, its skin smooth and unblemished and it radiates muscular potency and energy. It has an almost impossible beauty and grace about it. These effects, combined with its aforementioned weightless aspect, combine to give the horse an air of ethereal, otherworldly power. Its presence in the frame seems almost larger than life, like a being of a higher spiritual order transplanted onto more earthly terrain.
Home | Art Prints | Art Movements | Famous Artists | Articles