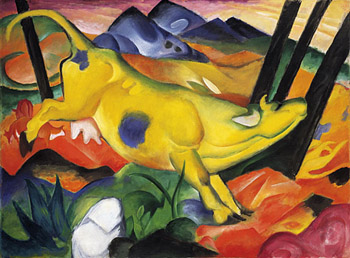 | | |
| --- | --- |
| Artist: | Franz Marc |
| Created: | 1911 |
| Dimensions (cm): | 189.2 x 140.5 |
| Format: | Oil on canvas |
| Location: | Solomon R. Guggenheim Museum, New York, USA |
The Yellow Cow
Created by artist Franz Marc in 1911, 'The Yellow Cow', or in its original German name 'Gelbe Kuh', is a 'happy' painting. Although art work of animals and nature were quite common in the early 20th-Century, Marc's stylistic approach rendered 'Yellow Cow' unique. The bright and very colourful scenery compliments the leaping, playful-looking cow. The reds, blues, and greens of the background work together in harmony to bring about a feeling of pure happiness to the viewer.
A number of artists at the time believed that the world was becoming materialistic and superficial; many turned to the natural world for their works, hoping it would bring them back to the basics of true importance. Franz Marc adopted this approach, but his particular use of colors added much symbolism to his work. Marc believed that yellow, being a color of "gentleness, happiness, and sensuality", represented feminine attributes; blue, which signified "spirituality and intellectual", symbolized masculine attributes. Mark Rosenthal used Marc's color theories to interpret 'The Yellow Cow'. He suggested that this could actually be Marc's own wedding picture as it was painted the same year the artist was married - the bride being depicted as the bright yellow cow, and the groom being represented as the blue mountains in the background. Some have even speculated that the blue spot on the cow's abdomen was Marc's secret wish for his wife to bear him a son.
Quotes by the Artist
Franz Marc truly believed that human kind was almost beneath animals. He once stated, "People with their lack of piety, especially men, never touched my true feelings. But animals with their virginal sense of life awakened all that was good in me."
With regards to his work, Franz Marc remarked, "Today we are searching for things in nature that are hidden behind the veil of appearance... We look for and paint this inner, spiritual side of nature."
With the popularity of 'The Yellow Cow', it became obvious that Marc's career was on the fast track to success, but unfortunately, in 1916 while at war, he was killed instantly when a shell splinter struck his head. He was 36 years old. The year before his death, Franz had written the following message: "War is one of the most evil things to which we have sacrificed ourselves."
'The Yellow Cow' is currently located at the Solomon R. Guggenheim Museum in New York, U.S.A.
Home | Art Prints | Art Movements | Famous Artists | Articles