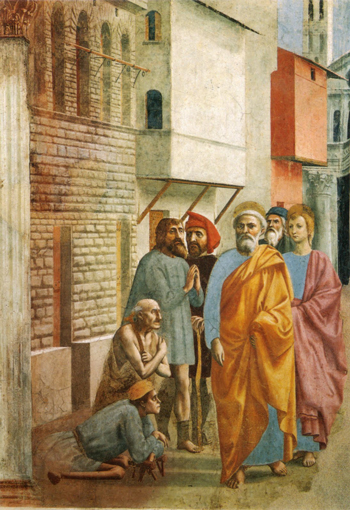 | | |
| --- | --- |
| Artist: | (Tommaso) Masaccio |
| Created: | 1425-26 |
| Dimensions (cm): | 162.0 x 232.0 |
| Format: | Fresco |
| Location: | Brancacci Chapel, Santa Maria del Carmine, Florence, Italy |
Saint Peter Healing with His Shadow
'Saint Peter Healing with His Shadow' by Italian painter Masaccio (Tommaso) adorns the lower center wall (at the left) in the Brancacci Chapel in Florence, Italy. It is a bible depiction from the passage Acts 5:14-15:
"14 And more than ever believers were added to the Lord, multitudes of both men and women, 15 so that they even carried out the sick into the streets and laid them on cots and mats, that as Peter came by at least his shadow might fall on some of them."
As Saint Peter walks the ancient streets of Florence, his shadow is cast upon the weary and ill, miraculously healing them. The faces of his followers (including Saint John who is wearing a light red robe) are awash with peace and admiration as they understand Saint Peter to be indeed a man of God. The kneeling bald man, rising to his feet, appears to have just felt the astounding "cure" that Saint Peter has bestowed upon him, while the beggar on the ground waits in anticipation for the holy shadow to reach him next.
Masaccio skilfully portrayed this touching bible scene with a bright and warm color scape that accompanies a heightened performance of light and shadows.
About the Art Work
Many critics suggested that the characters in 'Saint Peter Healing with His Shadow' are actual portrayals of "real" people. Some believe that Donatello is the old man with the beard and blue cap, standing between Saint Peter and Saint John, and some speculate that this character is actually Masaccio's brother, Giovanni, while others deem it to be a self-portrait.
About the Artist
Masolini da Panicale and his assistant Masaccio, came to be known as the "duo preciso e noto" (well and known duo) in the art world. Together they were commissioned by Felice Brancacci to work on frescos for the Brancacci Chapel in 1424, and began the labour in 1425. It is said that Masolini left for Hungary to be commissioned as painter to the king, leaving a very young Masaccio to work alone on 'Saint Peter Healing with His Shadow'. Upon Masolini's return, the master artist surprisingly discovered the level of talent displayed by his assistant and thus, teacher became student. Unfortunately, Masaccio was never to complete the art work in the chapel as he was called to Rome, where he died at the young age of 27.
'Saint Peter Healing with His Shadow' by Masaccio is housed at the Brancacci Chapel, Santa Maria del Carmine, Florence, Italy.

Home | Art Prints | Art Movements | Famous Artists | Articles