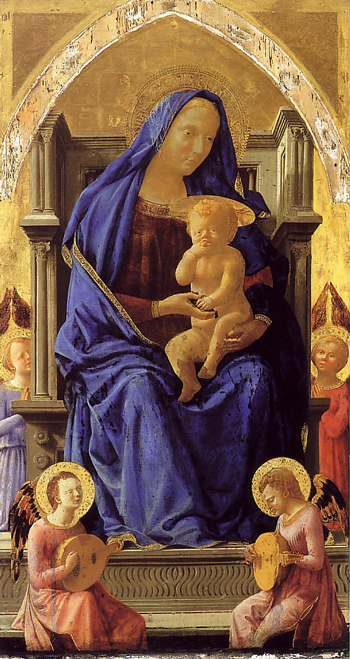 | | |
| --- | --- |
| Artist: | (Tommaso) Masaccio |
| Created: | 1426 |
| Dimensions (cm): | 73.0 x 135.5 |
| Format: | Egg tempera on poplar |
| Location: | National Gallery, London, England |
The Virgin and Child
"Masaccio can be given the credit for originating a new style of painting ... he produced work that is living, realistic, and natural." – Vasaro
Masaccio created 'The Virgin and Child' in 1426 with egg tempera on canvas for the Chapel of Saint Julian in Santa Maria del Carmine, Pisa. The painting is a religious scene wherein the Virgin Mary holds a plump, nude infant on her lap. The baby exudes innocence as he munches on the grapes that Mary holds in her hand. Mary is dressed in a royal blue robe which, although faded with age, still captures the viewer's attention immediately. She sits on a majestic throne, with four young angels at her feet. Two play music for her while the other two, at the sides of the throne, gaze at her in admiration with folded hands in prayer. The pattern of crimped lines at the base of the throne is a replica of a design found on a Roman sarcophagus. Due to Masaccio's remarkable skill in perception, onlookers experience a sense of looking upward when viewing the scene.
'The Virgin and Child' has acquired many blemishes over time, and numerous touch ups have been made to the paint. Although more vivid in its time, it has not lost its historic appeal. Unfortunately, the painting's original frame was ruined when it was cut down at the base.
Analysis
"Masaccio was an innovative artist, who influenced the course of the Renaissance in Italy. This altarpiece shows an early use of single-point linear perspective. Elements of the painting meet at a central vanishing-point and are foreshortened to accommodate the viewpoint of the spectator looking up. The figure of the Child is three-dimensional, emphasised by his elliptical halo." – National Gallery
'The Virgin and Child' was the center panel of a nineteen member winged altar. Ten other remaining panels are located at various museums across the globe. 'The Virgin and Child' is housed at the National Gallery in London, England.

Home | Art Prints | Art Movements | Famous Artists | Articles