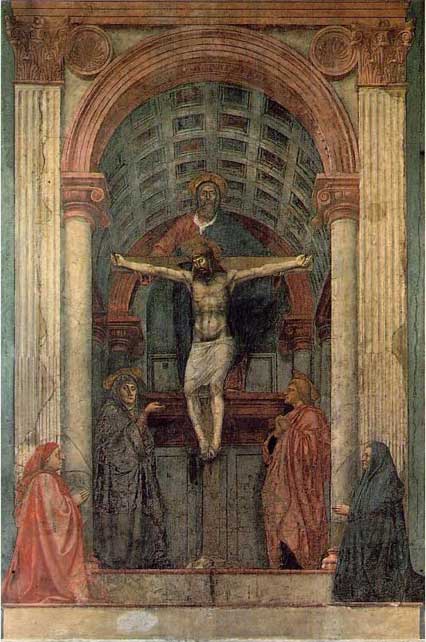 | | |
| --- | --- |
| Artist: | (Tommaso) Masaccio |
| Created: | 1425-28 |
| Dimensions (cm): | 317.0 x 667.0 |
| Format: | Fresco |
| Location: | Santa Maria Novella, Florence, Italy |
Trinity
A revolutionary masterpiece painted between 1425 and 1428, and possibly one of Masaccio's most famous works, 'Trinity' incorporates spiritual symbolism, and a "trompe l'oeil" (translation: "fools the eye") located in the archway of the fresco.
'Trinity' is a religious scene displaying Jesus Christ on the cross and God the Father behind him. The dove between them represents the Holy Spirit. At the feet of Jesus, on the left, stands the Madonna pointing to her son as though speaking directly to the viewer. The identity of the figure on the right is unknown, but it is speculated to be Joseph or Saint John the Evangelist. Below, we are shown two more figures kneeling in prayer - one is Lorenzo Leni (in red clothing) and his wife (in blue clothing). These two individuals were included in the painting to commemorate their donation of the fresco. The whole is imposed on a sarcophagus wherein lays skeletal bones, that many believe are meant to represent Adam. The Latin message above the skeleton translates to "I was what you are and what I am you shall be." The painting's message is unclear, but most theorists, art critics, as well as viewers believe that it is a representation of our spiritual journey to reach eternal salvation.
Analysis and Quote
In 1568, G. Vasari documented his analysis of the painting and praised Masaccio's "trompe l'oeil": "But that which is beautiful other than the figures, is the vault which is covered with paintings which demonstrate such incredible perspective that the center of the ceiling in which the paintings convene seems to be punctured."
History of the Fresco
In the sixteenth century, a stone altar was erected and Vasari created a panel painting that was placed over 'Trinity'. The existence of Masaccio's fresco was unknown until 1861 when the altar was removed. 'Trinity' was once again exposed to the public. It is located in the church of Santa Maria Novella in Florence, Italy.
Home | Art Prints | Art Movements | Famous Artists | Articles