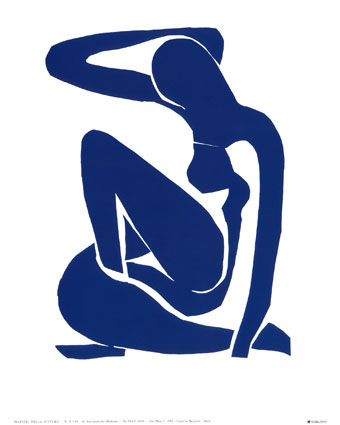 | | |
| --- | --- |
| Artist: | Henri Matisse |
| Created: | 1952 |
| Dimensions (cm): | 28.0 x 35.5 |
| Format: | Lithograph after a gouache decoupee |
Blue Nude (I)
Matisse's Blue Nude is one of the artist's greatest paintings and is considered a seminal work. The painting explores new artistic techniques and promotes Matisse's developing ideology.

Blue Nude began as a sculpture, but when the sculpture fell apart Matisse opted for painting. It is clear that sculptural techniques influenced the work, as the forms are clearly modeled. The three dimensionality of the work is, however, owed to Matisse's painterly skill and the influence of Cézanne.

A dynamic energy is created in the work through Matisse's varied brushwork and overpainting. The forceful paint application and rough modeling contribute to the vibrancy of the painting. The nude woman appears forceful and slightly aggressive. The continuous arcs and curves in the work emphasize the connective energy between the woman and her environment. She is both a part of and breaking away from the earth which surrounds her. The upper and lower parts of her torso are disjointed and seem to belong to separate poses. This manipulation of the human form anticipates the cubist movement.

With the Blue Nude, Matisse was using symbolism to comment on the issues which concerned him. The woman is meant to represent the intense strength and violence of the land which the artist had noticed on a trip to North Africa. She is a metaphor for energetic growth and a representation of the life force. Blue Nude is also meant to be a challenge to the idealized nudes popular at the time.

Blue Nude created controversy when shown. It was severely criticized for its rough paintwork and disjointed representation of the figure. This work, considered crass and ugly in its time, is now regarded as groundbreaking.


Home | Art Prints | Art Movements | Famous Artists | Articles