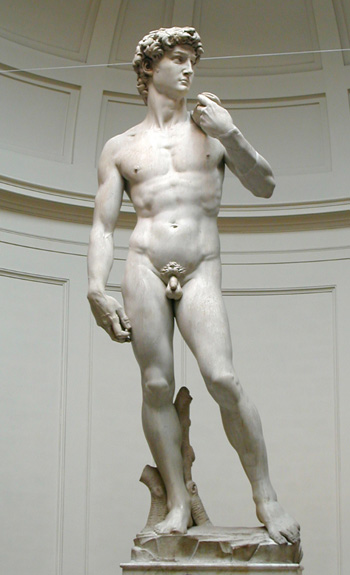 | | |
| --- | --- |
| Artist: | Buonarroti Michelangelo |
| Created: | 1501-04 |
| Format: | Marble |
| Location: | Accademia delle Belle Arti, Florence, Italy |
David
Michelangelo's marble masterpiece 'David' was created between 1501 and 1504, but closer to 1504 as recent dating disclosed. The famous statue stands tall, staring off into the distance, perhaps immediately after receiving the news that powerful Goliath, his archenemy, was about to attack (a speculation held by many). The entire right side of his body is smoothly contoured, while the left side is textured, and more muscularly-defined. His outstretched foot signifies that he is preparing to move into action, and his left arm is raised to his shoulder, holding onto a sling. The serious expression on his face implies a state of deep concentration.
Michelangelo opted to depict his 'David' without sword or sling shot and without the severed head of Goliath, contrary to the composition chosen by so many of his artistic counterparts during that era. The statue's stance and position is called a "contraposto". The artist portrayed David's strength and beauty in face of battle, and at a most courageous moment.
History of the Masterpiece
The Arte della Lana, or The Guild of Wool Merchants, commissioned Michelangelo to create his version of 'David', as they were responsible for the maintenance and decor of the Florence Cathedral. He was provided with a huge slab of marble that Agostino di Duccio had previously attempted to sculpt forty years earlier, but had seemingly abandoned. The following is Michelangelo's famous quote: "I saw the angel in the marble and carved until I set him free."
Upon completing the sculpture, the town council, consisting of Florence's most respected citizens and artists, insisted that 'David' be placed in the town square. The statue's symbolism earned high respect from the townspeople, as strength and wrath were characteristics to be admired.
'David' by Michelangelo is located at the Accademia delle Belle Arti in Florence, Italy.
Home | Art Prints | Art Movements | Famous Artists | Articles