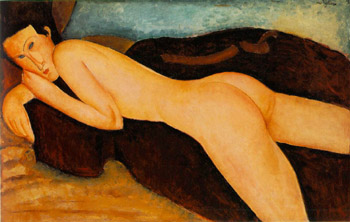 | | |
| --- | --- |
| Artist: | Amedeo Modigliani |
| Created: | 1917 |
| Dimensions (cm): | 99.5 x 64.5 |
| Format: | Oil on canvas |
| Location: | Barnes Foundation, Merion, USA |
Reclining Nude from the Back
In 1917, Amedeo Modigliani painted 'Reclining Nude from the Back' (also known by its original name 'Nu couche de dos') during his "nude phase", which lasted from 1916 to 1919. During this period, the artist produced more or less 24 nude paintings, of which approximately half were painted in 1917.
While Amedeo Modigliani usually painted images of family and friends, he used professional models as subjects for his nudes. 'Reclining Nude from the Back' features a nude woman who is gazing directly at the viewer in a manner that could be interpreted as a subtle invitation to admire her body. The figure is beautifully framed on the canvas. As the light falls on her body, it illuminates her skin, creating a startling contrast with the dark cushion beneath her. Her hands are hidden, and her feet remain outside of the frame, not an uncommon occurrence in nude paintings. This oil on canvas is an image of desire and eroticism, emotions that seemed to envelop Modigliani during those brief three years.
History
In 1917, Amedeo Modigliani was rewarded with the prestige associated with a one man exhibition. His nude paintings went on display at the Berthe Weill Gallery. However, the exhibition was short lived. It was banned only a few hours after its opening because the Chief of Police felt that the images were too controversial.
When Modigliani passed away in 1920, his pregnant wife of nearly nine months, Jeanne Hébuterne, was emotionally destroyed by his death. Two days after his death, she jumped out of a 5th storey window and killed herself and her unborn child.
Analysis and Quotes
Simonetta Fraquelli stated of Modigliani in her catalogue essay, "Modigliani's purpose is neither to aggrandise the sitter nor to record him or her for posterity, but rather to capture the image of an individual at a specific moment in the artist's life".
"What I am seeking is not the real and not the unreal but rather the unconscious, the mystery of the instinctive in the human race." – Amedeo Modigliani
The 'Reclining Nude from the Back' is currently at the Barnes Foundation in Merion, PA, United States.
Home | Art Prints | Art Movements | Famous Artists | Articles