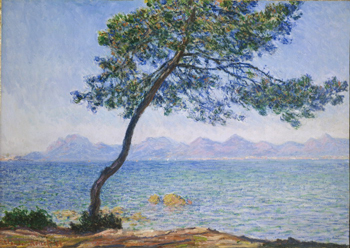 | | |
| --- | --- |
| Artist: | Claude Monet |
| Created: | 1888 |
| Dimensions (cm): | 92.4 x 65.5 |
| Format: | Oil on canvas |
| Location: | Courtauld Institute of Art Gallery, London |
Antibes
Monet lived in Antibes between February and May of 1888, working diligently while there, and producing some thirty-nine paintings. These paintings, richly colored, confused many critics in their day (some going even so far as to find in them a garish originality), and have only recently been adequately appreciated. During Monet's time on the coast, he was struck with the unique beauty of the place, and frequently said so in letters to friends and colleagues. In his paintings, he was concerned with capturing what he called pure, gentle sweetness . . . surrounded by a fairylike air.

This painting shows a single pine tree against a brilliant, almost luminous blue sea. The Estérel mountain form a screen across the background, neatly containing the water in the frame. This mountain range's profile is in turn skimmed by the foliage of the pine tree, an effect enhanced by Monet's delicate, repeating brush strokes. The simple composition allows for the piece's radiant colors, markedly different from Monet's northern landscapes, to vividly convey the warm sunshine and light mood of the Mediterranean coast.

Antibes belongs to a subset of seven canvases in the 1888 Antibes series that depict trees along the shoreline. Joachim Pissarro compared the arrangement of the group to a sonnet, and the series paved the way for Monet's working method of the 1890s, when he turned his attention to haystacks, cathedrals, and poplars. It also stands as one of Monet's best studies in color, and the paintings of the series retain a unique spot in his body of work.


Home | Art Prints | Art Movements | Famous Artists | Articles