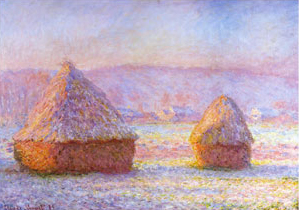 | | |
| --- | --- |
| Artist: | Claude Monet |
| Created: | 1889 |
| Format: | Oil on canvas |
| Location: | Hill-Stead Museum, Farmington, Connecticut, USA |
At least twenty-five canvases make up Monet's haystack series. To the casual observer, they are tributes to the natural beauty and splendor of rural France. However, upon closer inspection, it is evident that this is hardly the case. The subject matter is entirely inconsequential, and the construction of most of the paintings (including this one) are starkly anti-naturalistic.
It is unlikely that Monet began painting haystacks with the intent of making a series of them, but rather, he ended up using the motif as a medium for exploring dramatic and ephemeral effects of an ""envelope"" light on a landscape. In correspondence concerning the series, Monet only mentioned the haystacks in passing, but talked extensively of the difficulty of capturing what he called the ""instantaneity"" of light. His goal was to paint the scene how he felt it, as opposed to how he saw it.
The astonishing and sometimes hallucinatory variations of color present in this series make it impossible to argue that Monet's intent was to capture nature. This is quite obvious in this particular painting. The yellow paint is applied thickest along the edge of the haystack's cone, as if the sunlight were trapped in the thatch and begging to pile up there. While the lighter parts of the painting are smoother and softer, the brushstrokes making up the darkest parts are disjointed and very long, making for a remarkable contrast. The color choices and textures, too, cannot conform to what the artist saw. They are more about picture-making than capturing the reality of the scene. Essentially, Monet was using the haystacks as a vehicle. The series remains one his most astonishing, and most varied.
Home | Art Prints | Art Movements | Famous Artists | Articles