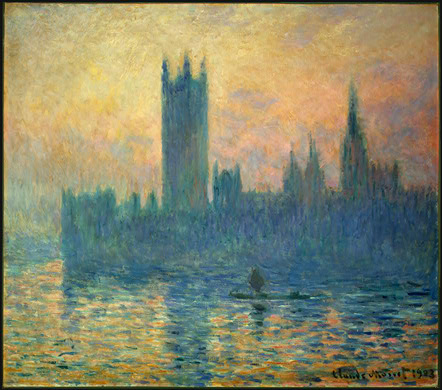 | | |
| --- | --- |
| Artist: | Claude Monet |
| Created: | 1903 |
| Dimensions (cm): | 92.5 x 81.3 |
| Format: | Oil on canvas |
| Location: | National Gallery of Art, Washington, USA |
This is Monet's most famous image of London; ironically, it is a rather grim, spectral work. It is a distant view, devoid of figures. It is also markedly different from the Paris views Monet painted in the 1860s and 1870s. Unlike those, there is no sense of modernity here; London as the subject is not imbued with nearly the same vibrancy that Paris was. The entire piece is luridly colored and covered in dark, ominous fog.
Monet painted the London series primarily from the window of the hotel he stayed in while there, the newly-opened Savoy Hotel. The hotel's promotional booklet described its foggy views of the Thames as an actual advantage of the establishment: "...this soft London vapour which... melts the colours, softens the harsh protrusions and gives to building an air... mysterious and stylish." It was indeed this ubiquitous fog that gives the entire series its character. Monet was evidently not alone is his taste for fog.
Monet began his London series in 1899, and it was a precipitous career change. It was not only his return to truly urban scenes, which he had not painted in 20 years, it was also the first phase of his rejection of France as a subject. After he completed the London series, Monet would voluntarily seclude himself in his garden for the remainder of his artistic career.
Home | Art Prints | Art Movements | Famous Artists | Articles