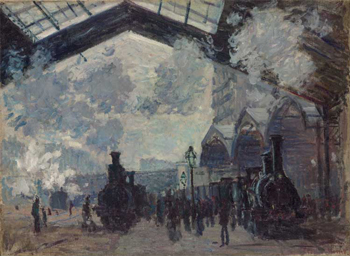 | | |
| --- | --- |
| Artist: | Claude Monet |
| Created: | 1877 |
| Dimensions (cm): | 73.6 x 54.3 |
| Format: | Oil on canvas |
| Location: | National Gallery, London, England |
This was the last urban setting Monet painted. Afterwards, until his death, he largely rejected modern France as a subject for painting, and turned entirely toward the natural world for his inspiration.
Some of Monet's contemporaries, such as Caillebotte and Manet, painted similar train station scenes, but unlike them, Monet brings us down to the level of the platforms. The human figures are lost amidst the plumes of white or pale blue smoke, and the imposing steel-and-glass canopy dwarfs the action below. It's clearly the exhaust from the engines which interested Monet the most here. The people and even the trains themselves are given relatively short shrift in favor the diaphanous clouds of steam rising towards the station's roof. The rest of the action is largely overshadowed by the remarkable and unexpected beauty of the puffs of smoke. Most critics consider the gas to be the fulcrum of the entire painting.
This is not to say that Monet was disinterested in the other elements though. The Gare Saint-Lazare was in fact the terminus of the train line from Argenteuil, which Monet often took himself. He knew the Gare Saint-Lazare well, and it is doubtful that he would have chose to paint a series on it, had he not had considerable affinity for the place. The Gare Saint-Lazare series was also more varied than the sets of tourist views Monet would go on to paint in the 1880s. These would generally be one motif under different weather conditions; the Gare Saint-Lazare series contains far more variety, with different sizes, styles, and viewpoints. It's clear, despite his preoccupation with plumes of smoke here, that Monet is taking us on a guided tour of his beloved Gare Saint-Lazare.
Home | Art Prints | Art Movements | Famous Artists | Articles