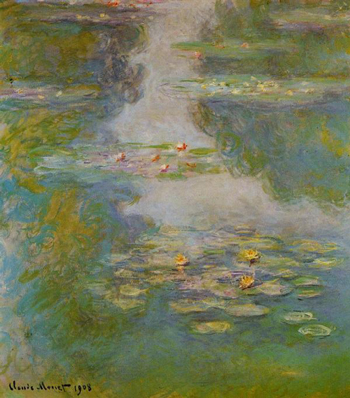 | | |
| --- | --- |
| Artist: | Claude Monet |
| Created: | 1908 |
| Dimensions (cm): | 81.0 x 92.0 |
| Format: | Oil on canvas |
| Location: | Private collection |
Of Monet's four single-subject exhibitions, the most well-known is his legendary water lily series. A staggering forty-eight paintings in total, this series represented five years of hard work on Monet's part, in the prime of his career. Water lilies at Giverny was painted in 1908, near the end of the series.
This particular painting has achieved special renown, as it is nigh-impossible to reproduce. In fact, the difficulty of accurately capturing the subtlety of its palette and chromatic structure is perhaps what the painting is best known for.
The top two-thirds of the painting is dominated by the reflection of two groups of trees. Between the groups, a river of sky winds gracefully up the canvas. Running across each group of trees is a bunch of richly-hued white and pink water lilies, giving perspective to the reflective surface of the water as it stretches away from us. The lower portion of the painting stands in interesting contrast to the top. It is mostly covered in shadow, probably cast by the footbridge crossing the pond, which Monet often painted from-the same footbridge visible in many of the other paintings in the water lilies series. The area is mostly pale violet, complimenting the greens and yellows of the upper portion, and on it floats a single, central group of water lilies with brilliant red blossoms. The only objects present in the entire piece are water lilies, save for mere hints of vegetation in the upper-right-hand corner. Everything else is seen in the obfuscating reflection provided by the surface of the water.
Home | Art Prints | Art Movements | Famous Artists | Articles