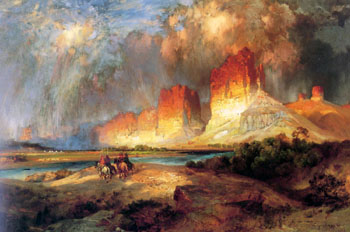 | | |
| --- | --- |
| Artist: | Thomas Moran |
| Created: | 1882 |
| Dimensions (cm): | 61.0 x 40.5 |
| Format: | Oil on canvas |
| Location: | National Museum of American Art, Washington D.C., U.S.A |
Cliffs of the Upper Colorado River
American artist Thomas Moran created 'Cliffs of the Upper Colorado River, Wyoming Territory' in 1882. Moran found himself in a magnificent valley while on a journey to Yellowstone, and fell in love with the rough landscape and wild nature surrounding him. He found the small town of Green Valley nestled between massive bluffs. The artist masterfully painted the Wyoming landscape as he envisioned it, before the first settlers established themselves on the land. The painting depicts the harsh terrain, a composition of bright oranges, golds, yellows, and browns derived from Moran's imagination and creatively brushed onto the canvas. The sharp blue of the water provides a spectacular contrast with the arid landscape, and adds perspective to the painting. Moran chose to omit the settlers and their houses from this painting, including instead a few Indian riders by the river in order to give the viewer a nostalgic glimpse of past history.
A Quote by the Artist
"There is an ability to see nature, and unless it is within the man, it is useless to try and impart it." – Thomas Moran
Review
With regard to 'Cliffs of the Upper Colorado River', and other Moran paintings, Nancy K. Anderson stated in an exhibition brochure: "Moran erased all signs of commercial development, concentrating instead on the multicolored buttes rising above the river. In paintings that contained more fiction than fact, Moran replaced railroad tracks with Indian caravans. Skilfully combining the spectacular landscape of Green River with figures that reflected an increasingly nostalgic view of Indian life, Moran produced a series of paintings that were so popular that he continued to sell variations on the theme well into the twentieth century."
'Cliffs of the Upper Colorado River, Wyoming Territory' is currently at the National Museum of American Art in Washington, U.S.A.
Home | Art Prints | Art Movements | Famous Artists | Articles