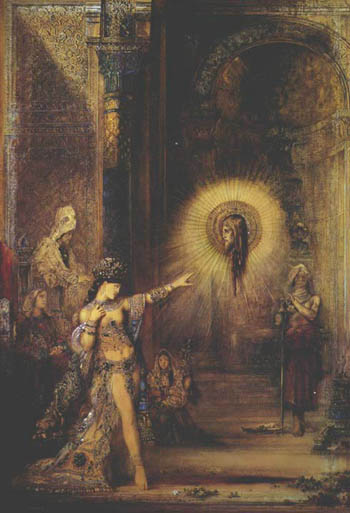 | | |
| --- | --- |
| Artist: | Gustave Moreau |
| Created: | c.1874-76 |
| Dimensions (cm): | 103.0 x 142.0 |
| Format: | Oil on canvas |
| Location: | Musee Gustave Moreau, Paris, France |
The Apparition
Artist Gustave Moreau painted 'The Apparition', also known as the 'Dance of Salome', in 1874-76. The oil painting is a depiction of the biblical legend of Salome, in which Herod's step daughter Salome requests the beheading of John the Baptist to please her unruly mother Herodias.
The famous legend claims that Salome danced for her stepfather on the event of his birthday, and being very pleased with her performance, he offered her anything within his power as a reward. Not knowing what to ask for, she consulted her mother who told her to demand that the head of John the Baptist be brought to her on a plate. According to some interpreters, Herodias was displeased with the Baptist because he was continuously commenting on her blasphemous marriage to Herod; others claim that she was in love with him.
Gustave Moreau's painting shows Salome, whose veils have slipped off her body during her sensuous dance, and who is struck still with shock and fear at the appearance of the suspended bloody head of John the Baptist which has come to her in a ghostly form. A black panther lies at her feet, and standing at the back of the picture is Herodias. The painting's various mystical symbols have endured many different interpretations over time.
Analysis and Reviews
There are mixed reviews with regard to the painting, some less flattering than others. Here is Roberta Smith's remark in the New York Times Art section: "In 'The Apparition' of 1874-76, which shows Salome dancing once again but with a vision of St. John the Baptist's severed head floating before her, the entire architectural setting was simply scratched into expanses of still-wet areas of milk chocolate paint, making the surrounding palace less tangible than the Baptist's head."
Of interest to admirers of Moreau's work, is the fact that the infamous Oscar Wilde wrote his play "Salome" after being tremendously inspired by 'The Apparition'. The painting is located in Paris at the Musee Gustave Moreau, a museum erected by the artist in 1896, two years prior to his death at the age of 72.
Home | Art Prints | Art Movements | Famous Artists | Articles