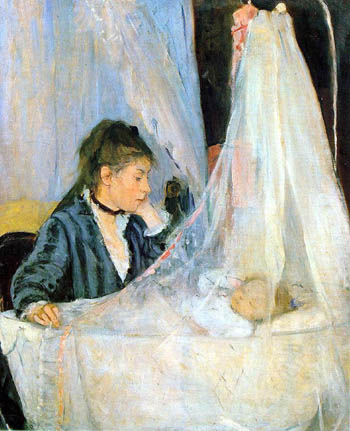 | | |
| --- | --- |
| Artist: | Berthe Morisot |
| Created: | 1872 |
| Dimensions (cm): | 46.0 x 56.0 |
| Format: | Oil on canvas |
| Location: | Musee d'Orsay, Paris, France |
The Cradle
Unquestionably, 'Le Berceau (The Cradle) is Berthe Morisot's most famous piece of art. This remarkable oil on canvas, painted in 1872, was to become an icon for female artists. It features a mother looking over her sleeping child in a cradle. The woman's left arm is bent in perfect synchronization with the baby's arm, and her right one rests lovingly on the cradle's edge. It represents an intimate moment between mother and child. The baby's peaceful sleeping face, together with the mother's endearing look, trigger tender emotions in the viewer. The cradle's net and the window's lace curtains add softness to the room. The woman's hair is tied back and painted with soft brush strokes, accentuating her femininity. The subject is Berthe Morisot's sister Edma, and the infant is her young niece Blanche. Motherhood became one of Morisot's favorite subject matter, and she often used Edma and Blanche as her models.
Quotes
"In love, there's sentiment and passion; I know only sentiment through myself, passion through others. I hear certain voices I know say: sentiment is love of the intellect; I can answer: passion is the love of the body." – Berthe Morisot
"This woman's work is exceptional. Too bad she's not a man." – Edouard Manet (Fellow painter, close friend, and brother in law)
History
'The Cradle' was first displayed in 1874 at the Impressionist exhibition. Berthe Morisot became the first woman to exhibit with the congregation of recognized artists. Though the artwork did not attract much attention, important spectators and critics commented on its elegance. After failed attempts to sell the painting, it was removed from display at the request of the artist, and remained with Edma's family until 1930, when it was purchased by the Louvre.
'The Cradle' by Berthe Morisot is currently on display at the Musee d'Orsay, Paris, France.
Home | Art Prints | Art Movements | Famous Artists | Articles