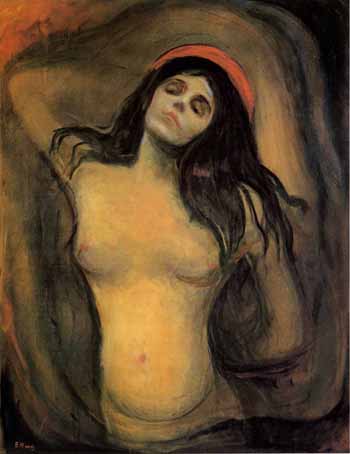 | | |
| --- | --- |
| Artist: | Edvard Munch |
| Created: | 1894 |
| Dimensions (cm): | 68.5 x 90.0 |
| Format: | Oil on canvas |
| Location: | Munch Museum, Oslo, Norway |
Madonna
Infamous artist Edvard Munch painted 'Madonna' in 1893 or 1894 as part of the "Frieze of Life" series. The oil on canvas shows the beautiful nude torso of a woman with her left arm placed behind her waist, and her right one reaching to the back of her head. Her long, black hair falls casually over her shoulders. Her half-closed eyes give an aura of serenity and peacefulness to the picture. The red halo that circles her head implies a resemblance to the holy Madonna. Surrounding her body is a composition of swirling lines and flowing colors that emphasize the dreamlike state this vision exudes.
Madonna's Theft and Recovery
On August 22, 2004, the priceless 'Madonna', together with Munch's other famous work The Scream, were stolen. Visitors to the Munch Museum in Oslo looked on in shock as the two dangerously-armed and masked thieves forced staff and security onto the floor while they removed the paintings from the wall and unframed them. They walked out of the museum and threw the art in the back of a waiting car. On August 31, 2006, both paintings were successfully recovered by the Oslo police. The only significant damage was to the 'Madonna', which bore a 2.5 cm hole in the canvas that would eventually be repaired.
Analysis and Quotes
When Edvard Munch commented on his 'Madonna, he directly addressed the figure in the painting, giving viewers insight into its intended significance: "The pause during which the entire world halts in its orbit. Your face embodies all the beauty of the world. Your lips, as crimson as a ripe fruit, are half open as if to express pain. A corpse's smile. Here life and death shake hands. The chain that links thousands of past generations to the thousands to come has been meshed."
'Madonna' by Edvard Munch is located at the Munch Museum in Oslo, Norway.
Home | Art Prints | Art Movements | Famous Artists | Articles