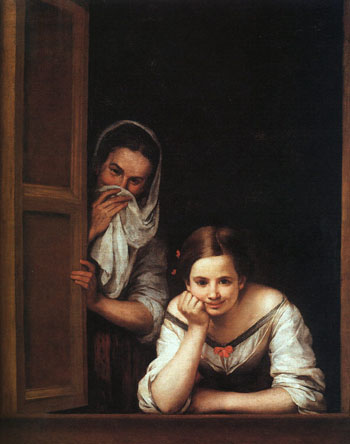 | | |
| --- | --- |
| Artist: | Bartolome Esteban Murillo |
| Created: | 1670 |
| Dimensions (cm): | 127.0 x 106.0 |
| Format: | Oil on canvas |
| Location: | National Gallery of Art, Washington DC, USA |
Two Women at a Window
Artist Bartolome Esteban Murillo created 'Two Women at a Window' (also known as 'Girl and Her Duenna') between 1655 and 1660. The oil on canvas depicts two female onlookers at an open window - one is leaning on the window sill, resting her chin on her hand, the other is partially hiding behind the wooden shutter, pulling her shawl up to her mouth to cover it. Judging from the grin on the first woman's face, it can be assumed that the woman in the background is attempting to hide her laughter.
'Two Women at a Window' is intriguing; the delightful scene triggers the viewer's imagination. What could the two seemingly mischievous women be so fascinated with? When the earlier title of the painting was Las Gallegas (The Galician Women), the theory was that the woman in the front was a prostitute or courtesan in the poor village of Galicia in north-western Spain. The other woman represents her chaperone or duenna. The courtesan is gazing seductively at a potential customer, trying to lure him with her sexual prowess. The chaperone is giggling at her attempts. As Murillo never documented the true meaning of his painting, it will never cease to fascinate its viewers.
Analysis and Quote
The following quote provides some insight with regard to the significance of the painting: "Two Women at a Window is a splendid image, reticent, creamily beautiful. In this wonderful picture, the great strong vertical of the shutter, and the equally strong horizontal of the window ledge, frame the two women. The girl, who is the emotional center of the picture, looks out at life with ironic detachment, but Murillo, and the older woman, knows that her practical options are severely circumscribed." - Sister Wendy's Story of Painting.
'Two Women at a Window' by Bartolome Esteban Murillo is located at the National Gallery of Art in Washington DC, U.S.A.
Home | Art Prints | Art Movements | Famous Artists | Articles