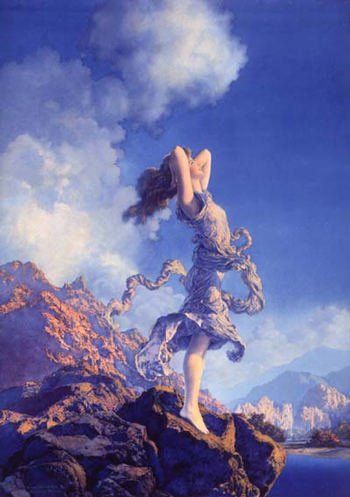 | | |
| --- | --- |
| Artist: | Maxfield Parrish |
| Created: | 1930 |
| Dimensions (cm): | 39.0 x 86.0 |
| Format: | Lithograph on paper |
| Location: | Private collection |
Ecstasy
In the late 1920s and early 1930s, no less than one in four American homes had a print of a Maxfield Parrish painting hanging on the wall. Though Parrish fell in and out of favor with both critics and consumers throughout the 20th Century, that level of popularity has yet to be matched by an American artist of any stripe. It was during this phase of his career that he painted Ecstasy (1929 to be exact).

Ecstasy was painted for the 1930 Edison Mazda Lamps calendar, a publication for which Parrish had already been painting for quite some time at that point. True to his growing fondness for romantic sentiments and subject matter, this piece is an ode to consuming, but simultaneously liberating passion. The woman is clearly lost in a moment of rapturous love, but notable is the fact that she is casting her arms and gaze heavenward, giving an almost holy connotation to her emotions. She is simultaneously filled with a love that is divine and a love for the divine.

All of Parrish's key trademarks are present here. The ecstatic woman is defined with meticulously painted outlines, and her garment is sinewy and dynamic to the point of having an animated quality all its own. Parrish made liberal use of his signature Parrish blue, which dominates the subtle, muted Southwestern palette of the beautiful background, which Parrish crafts with astounding attention to detail. The landscape evokes an idyllic, almost fantastic pastoralism, rooted in the motifs of late-19th Century American decorative art.
Home | Art Prints | Art Movements | Famous Artists | Articles