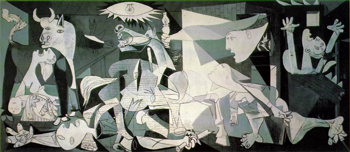 | | |
| --- | --- |
| Artist: | Pablo Picasso |
| Created: | 1937 |
| Dimensions (cm): | 777.2 x 349.3 |
| Format: | Oil on canvas |
| Location: | Museo del Prado, Madrid, Spain |
This work is perhaps the most celebrated of all anti-fascist artworks. Painted for the Spanish pavilion at the 1937 Paris International Expo, it is a protest against the bombing of the civilian population in the town of Guernica during the Spanish civil war. Picasso's huge, tragic mural is one of the most pivotal artistic statements of our century.
Guernica is an allegorical representation of the plight of Picasso's country. The images of the mangled and distorted warrior at the base of the work, the woman holding her dead child, and the horse with its spear-like tongue all represent bitter affliction. The victorious bull and dying horse dominate the composition. The bull is meant to represent the triumph of brutality and oppression, while the horse represents the people. An expression of hope and a symbol of human conscience can be seen in the light of reason which shines above the horse's head.
The canvas is divided into three sections, with the central triangle being flanked by rectangles on either side. Picasso's use of cubism is evident through Guernica's distortions of imagery, compressed depth and grid-like structure. The severe blacks, whites and grays used to color the picture communicate wartime agony. The gross linear distortions also project the senselessness of destruction. Through psychotic drawing, the insanity of war is emphasized.
Picasso worked on forty-five studies for Guernica. His intense dedication to the work is a testament to his belief that artists are capable of political impact and of affirming the worth of humanity through their work. With Guernica, Picasso presents a scathing denunciation of the evils of totalitarianism. The different motifs in the work are united by the strength of this message and of Picasso's conviction. Guernica is a work of extreme power and importance.
Home | Art Prints | Art Movements | Famous Artists | Articles