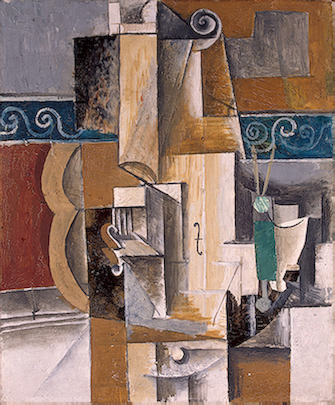 | | |
| --- | --- |
| Artist: | Pablo Picasso |
| Created: | 1912-13 |
| Dimensions (cm): | 54.3 x 65.5 |
| Format: | Oil on canvas |
| Location: | State Museum of New Western Art, Moscow, Russia |
Painted during Picasso's very recognizable Cubist period (1907-1916), Guitar and Violin is indicative of a time in Picasso's career when he was moving away from collage and back to oil paints. The painting is basically a mix of the two mediums, a style Picasso experimented in for a time, painting mostly violins and guitars, sometimes with other objects.

Prior to this transitional style, Picasso had been creating papiers collès: he pasted vertical strips of colored paper on canvas to create a Cubist rendition of his subject. As he phased that style out, he began to use both pasted-on strips of paper and oil paint. Eventually, he abandoned the paper strips altogether. Here, the entire painting is done in oils, but the composition clearly recalls his papiers collès: the guitar and violin are constructed out of the same vertical strips, but painted strips instead of pasted paper. In fact, Picasso pasted strips of canvas on the main canvas and painted over those, giving some of the strips a relief effect: this painting is in fact closer to collage than it seems. The color, too, emphasizes the strips: each is contrasted with the next, and the colors move from darker to lighter from left to right, creating an effect not of gradual lightening, but of sequential steps.

Despite the disjointed nature of the guitar and violin, we are given clear visual indications of what has been painted. To the left, the brown and orange double curve clearly shows the topmost part of a guitar; we can also clearly see two distinctive sound holes that point to a violin. Further clues are present: next to the left violin sound hole there are four white lines which are the guitar's strings; at the top of the painting we can see the violin's headstock.
Home | Art Prints | Art Movements | Famous Artists | Articles