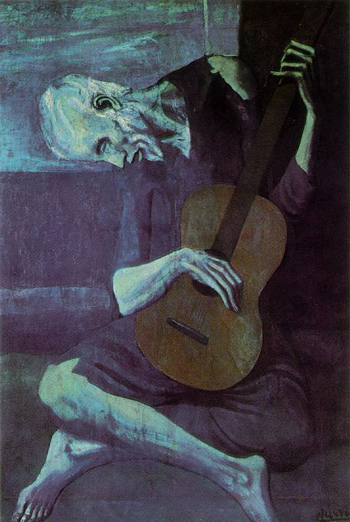 | | |
| --- | --- |
| Artist: | Pablo Picasso |
| Created: | 1903 |
| Dimensions (cm): | 82.6 x 122.9 |
| Format: | Oil on canvas |
| Location: | Art Institute of Chicago, Chicago, USA |
The Old Guitarist was painted during The Blue Period, the time when Picasso first evolved a manner of his own. Called 'a testimony of conscience' by one of his friends, The Blue Period hailed a great change in Picasso's work. Previously, he had been painting flower pieces and using bright colors. He abandoned these themes, and the result was a complete failure from a financial point of view.
The almost exclusive use of the color blue during this phase of Picasso's career has never been satisfactorily explained. Some believe it was because he was too poor to buy a variety of colors (although it is considered unlikely given that Picasso would have gone without food in order to buy paints.) A more likely theory is that he turned to blue to reflect his mood which at the time, due to different circumstances including the suicide of a close friend, was melancholic and cold.
During The Blue Period, the subject of the paintings is often the life of the artist as an outcast and a man apart, symbolized by the lonely figures of the beggars. To an extent, it was the life Picasso himself was leading, dogged by failure and poverty and separated from his family in Barcelona. The atmosphere of the Blue Period is predominately sad and the paintings done during this period also demonstrate the artist's compassion for the outcasts of society: the blind, the lame and the poor.
Picasso had the ability to draw the human figure with astounding precision before he was out of his teens. During The Blue Period, he used this talent when drawing figures but distorted it imaginatively. By doing so, and creating such figures as, The Old Guitarist, he managed to convey the moral and physical decay of his characters.
Of all the paintings done during this period, The Old Guitarist most clearly depicts this intent. The Old Guitarist is blind and plucking listlessly on a guitar. He is seated in an uncomfortable position as if to indicate that he expects and receives no comfort from the world around him. He looks as if he has had the very life sucked out of him.
Home | Art Prints | Art Movements | Famous Artists | Articles