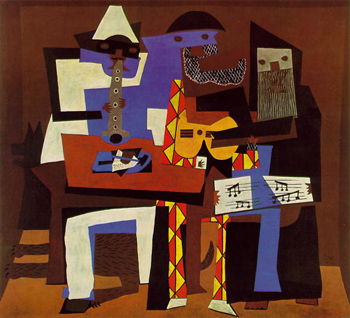 | | |
| --- | --- |
| Artist: | Pablo Picasso |
| Created: | 1921 |
| Dimensions (cm): | 188.3 x 204.5 |
| Format: | Oil on canvas |
| Location: | Philadelphia Museum of Art |
In the summer of 1921, Picasso painted a picture that came to be regarded as the climax of cubism. It was in his villa at Fontainebleau that he painted the Three Musicians, a masterpiece that was to be the synthesis of this style.

Synthetic Cubism began with the use of imaginative or synthetic shapes that were manipulated and made to look like objects. Sometimes pieces of colored paper, wallpaper, newspaper, cloth imitations of grain wood on paper, and the like were pasted on to the picture. This was called "collage" and it was used first by Picasso and Braque. This was a completely different way of making pictures. Ever since the introduction of this style, two-dimensional representation in painting has been of major importance.

For the first time in the cubist movement, Picasso used a group of people as the subject. The three figures were derived from Italian, French, and Spanish popular theater, a pierrot, a harlequin and a monk playing a trio. Music was a favorite cubist theme and here Picasso equips pierrot with a clarinet, the harlequin with a violin and the monk seems to have an accordion on his knees. In Picasso's portrait, the heads, instruments, hands, and music remain identifiable even the dog waging his tail under the table. However, they have been broken up into planes that have been flattened and arranged across the picture surface.

Picasso took the human form apart and put it back together in unusual and shocking ways. The various parts are not always rearranged in a rational position but sometimes in fragmented and overlapping shapes. The Three Musicians is often referred to as the last great work of Cubism and a "masterpiece intelligible to all".
Home | Art Prints | Art Movements | Famous Artists | Articles