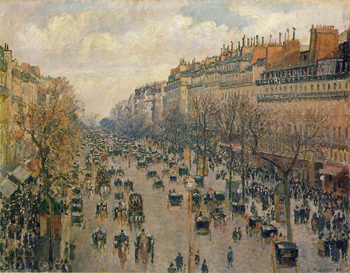 | | |
| --- | --- |
| Artist: | Camille Pissarro |
| Created: | 1897 |
| Dimensions (cm): | 92.8 x 74.0 |
| Format: | Oil on canvas |
| Location: | State Hermitage Museum, St. Petersburg, Russia |
Boulevard Montmartre: Afternoon, Sunshine
One day in 1897, impressionist Camille Pissarro rented a room at the Grand Hotel de Russie in Paris in order to have a perfect view of Montmartre Boulevard. He installed himself and proceeded to paint 'Boulevard Montmartre: Afternoon, Sunshine', an oil on canvas that was to be part of a thirteen art work series. Camille Pissarro's goal was to capture the true essence of the busy Parisian street. From his elevated station in the hotel, the artist could obtain a "bird's-eye view" of the people, carriages, and events that were unfolding before him. Each painting depicted the scene at a different hour of the day, with a different atmospheric element, thereby evoking a variety of emotional responses from viewers.
When observed amid the other paintings in the series, 'Boulevard Montmartre: Afternoon, Sunshine' is an epic display of life in Paris during the working hours of the day. The painting's aura is one of activity and purpose. However, standing on its own, the scene emits a slight sense of loneliness that is derived from the immensity of the city's architecture, buildings acting like an oppressive wall that surrounds its tiny inhabitants.
Between February and April of 1897, during his stay in the hotel room, Camille Pissarro also created two paintings of the Boulevard des Italiens, which was located to his right.
Analysis
In review of 'Boulevard Montmartre: Afternoon Sunshine', the Hermitage Museum states, "Here the master skilfully conveyed the rich atmospheric effects, the complex colours and ethereal feeling of a gloomy day. This image of fast-moving, dynamic urban life, so convincingly captured by the artist's rapid brushwork, presents the image of a contemporary city - not in a ceremonial or official mood, but animated and alive. Such urban landscapes formed the central motif in Pissarro's work." - State Hermitage Museum
'Boulevard Montmartre: Afternoon, Sunshine' by Camille Pissarro is located at the State Hermitage Museum in St Petersburg, Russia.

Home | Art Prints | Art Movements | Famous Artists | Articles