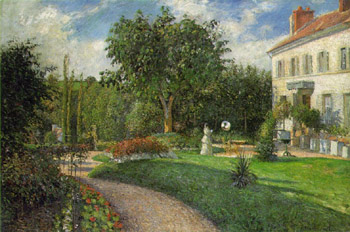 | | |
| --- | --- |
| Artist: | Camille Pissarro |
| Created: | 1876 |
| Dimensions (cm): | 165.4 x 112.7 |
| Format: | Oil on canvas |
| Location: | The Nelson-Atkins Museum of Art, Kansas City, USA |
Garden of Les Mathurins at Pontoise
The 'Garden of Les Mathurins at Pontoise' is a meticulous landscape painting created by artist Camille Pissarro in 1876. Pissarro was one of the first among his impressionist peers to divide colors, an obvious achievement in this oil on canvas masterpiece.
The painting reflects a breathtaking scene in the 'Garden of Les Mathurins at Pontoise', featuring lush, leafy trees against a crisp blue sky complimented by white clouds. The majestic house at the right hand side of the canvas is detailed in true impressionist style. The path, which consists of pink, blue, white, and yellow brushstrokes, leads the viewer deep into the garden. The flowers, plants, and the foliage-covered archway to the house are reminiscent of 'The Garden of Pontoise' that Pissarro painted a year previous to 'The Garden of Les Mathurins at Pontoise.'
Quotes by Camille Pissarro
"Work at the same time on sky, water, branches, ground, keeping everything going on an equal basis... Don't be afraid of putting on colour... Paint generously and unhesitatingly, for it is best not to lose the first impression." - Pissarro's advice on painting.
"Painting, art in general, enchants me. It is my life. What else matters? When you put all your soul into a work, all that is noble in you, you cannot fail to find a kindred soul who understands you, and you do not need a host of such spirits. Is not that all an artist should wish for?" - Pissarro on his passion for painting.
Analysis
Joachim Pissarro, Camille Pissarro's great grandson, who is an art historian and curator for the Museum of Modern Art in New York City, stated the following with respect to his great grandfather's works: "Essentially complex, his work made use of a phenomenal imagination, an unusually rich, innovative visual mind, a vast curiosity about techniques of all sorts, a profound poetic sensitivity, and an unquenchable passion for painting, as well as a strongly defined set of intellectual positions."
The 'Garden of Les Mathurins at Pontoise' is located at The Nelson-Atkins Museum of Art in Kansas City, United States.
Home | Art Prints | Art Movements | Famous Artists | Articles