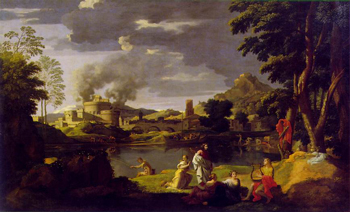 | | |
| --- | --- |
| Artist: | Nicolas Poussin |
| Created: | 1650-53 |
| Dimensions (cm): | 200.0 x 124.0 |
| Format: | Oil on canvas |
| Location: | Musee du Louvre, Paris, France |
Landscape with Orpheus and Eurydice
Artist Nicolas Poussin painted 'Landscape with Orpheus and Eurydice' using oil on canvas in 1650-1653. This art work is a magnificent glimpse into the fabled story of Orpheus and his new bride Eurydice, who tragically dies from a snake bite. Orpheus travels to the underworld to meet with Hades in an attempt to get her back. Being a magically talented musician and poet, Orpheus plays his lyre for Hades and successfully persuades him to let her go. The devious Hades allows Orpheus to take his beloved bride, but on the condition that Orpheus does not turn to look back at her before they reach the world of the living. Sadly, Orpheus fails to comply, and loses his love forevermore.
'Landscape with Orpheus and Eurydice' represents the moment before Eurydice is bitten by the snake. Eurydice stands in her yellow dress, looking at the shadowy landscape and ominous sky, as though sensing its foreboding nature, while Orpheus plays his lyre for those sitting around him, oblivious of his wife's impending doom. However, the aspect that draws the viewer's attention is not the figures or the activities they are engulfed in, but the entirety of the landscape itself. It reflects the artistic and creative skill that Nicolas Poussin was gifted with. Creating a central focus as large as the scenery of this painting is a daunting task for any painter. Poussin's admirable light and shadow technique brings eeriness to the scene, which appropriates the essence of the story.
Review of the Artist
Robert Hughes of "Nothing If Not Critical" felt that "Nicolas Poussin was the greatest French artist of the seventeenth century, the founder of his country's classical school. With him, French painting shook off its provinciality and became a European affair, mirroring the power of its grand siecle, the age of Louis XIV. After Poussin, Rome could no longer condescend to Paris. But without Rome there would have been no Poussin: Rome formed and trained him, gave him his conception of professional life, his myths, his essential subjects, his sensuality and measure in short, his pictorial ethos." – Robert Hughes (Nothing If Not Critical)
'Landscape with Orpheus and Eurydice' by Nicolas Poussin is located at the Musee du Louvre in Paris, France.

Home | Art Prints | Art Movements | Famous Artists | Articles