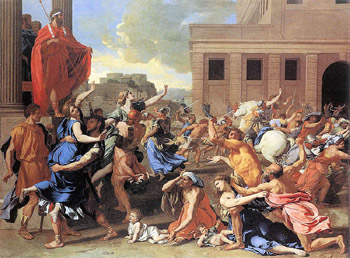 | | |
| --- | --- |
| Artist: | Nicolas Poussin |
| Created: | 1633-34 |
| Dimensions (cm): | 209.9 x 154.6 |
| Format: | Oil on canvas |
| Location: | Metropolitan Museum of Art, New York, USA |
The Rape of the Sabine Women
Master artist Nicolas Poussin painted 'The Rape of the Sabine Women' between 1633 and 1634. The use of the word "rape" was not utilized in the same context as it is today; in the 1600's the term referred to kidnapping.
The oil painting depicts an historical moment, the event when Romulus, the leading figure of the new city of Rome, signals his men to attack by pulling on his red cloak. His purpose was to capture the women and make them wives. He needed to populate the new city in order to gain permanent status. His men forcibly seized the women. Unarmed, the men of Sabine valiantly battled with nothing but their pride and fists. In the forefront of the painting, a mother with her children and an old woman are shown in the midst of the chaos. The painting exudes the emotions associated with the violent scene - fear, hate, violation, courage, love for their own, all of which breathe life into the figures. The facial expressions are skilfully realistic, and the stance of Romulus exudes defiance.
Quotes
"After Poussin, Rome could no longer condescend to Paris. But without Rome there would have been no Poussin. Rome formed and trained him, gave him his conception of professional life, his myths, his essential subjects, his sensuality and measure in short, his pictorial ethos." – Robert Hughes "Nothing If Not Critical"
"Colors in painting are as allurements for persuading the eyes, as the sweetness of meter is in poetry." – Nicolas Poussin
'The Rape of the Sabine Women' by Nicolas Poussin is located at the Metropolitan Museum of Art in New York City, U.S.A.
Home | Art Prints | Art Movements | Famous Artists | Articles