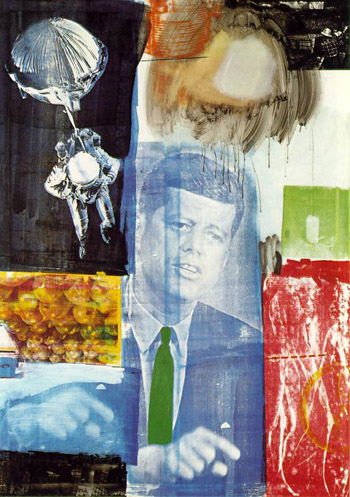 | | |
| --- | --- |
| Artist: | Robert Rauschenberg |
| Created: | 1963 |
| Dimensions (cm): | 60.8 x 23.0 |
| Format: | Oil and silkscreen on canvas |
| Location: | Wadsworth Atheneum Museum of Art, Hartford, USA |
Retroactive I
In 1963, Robert Rauschenberg painted 'Retroactive I' using oil and silkscreen ink on a canvas. This monumental art piece is perhaps the most popular and possibly the finest of Rauschenberg's silkscreen works.
The painting consists of numerous objects, images, and scenes taken from magazines and television. They are juxtaposed to reflect the connection between powerful human emotion and the corporate philosophies of the events of the world around us. The artist used images of the distinguished Sunkist orange and an American astronaut to symbolize the wealth and confidence of the country in the 1960's. The picture of the late President John F. Kennedy is added to the painting as the main focus to reflect the encouraging promise for America's future and its fortitude. Due to the tragedy of Kennedy's assassination that same year, his image also acts as a reminder of a man whose greatness and goals should live on through memory and action. The overlapping colors and lines give the impression that one is watching a series of collaged screen shots on television, marking the new electronics era of the '60's.
Quote by the Artist
"I don't want a picture to look like something it isn't. I want it to look like something it is. And I think a picture is more like the real world when it's made out of the real world." – Robert Rauschenberg
Reviews
On the website edu.warhol.org, the art review writers comment on Robert Rauschenberg:
"Rauschenberg was keenly interested in the iconography of American popular culture. He eschewed the emotional style of the Abstract Expressionists without losing the latter's expressiveness by developing a style that stressed collage and used atypical materials like house paint, as well as techniques such as painting with a tire dipped in ink."
"Rauschenberg's fascination with popular imagery and his anything goes aesthetic indisputably influenced Pop Art, which would mimic the look of popular culture as opposed to Rauschenberg's more subjective renderings."
'Retroactive I' is currently located as part of the permanent collection at the Wadsworth Atheneum Museum of Art in Hartford, Connecticut, United States.
Home | Art Prints | Art Movements | Famous Artists | Articles