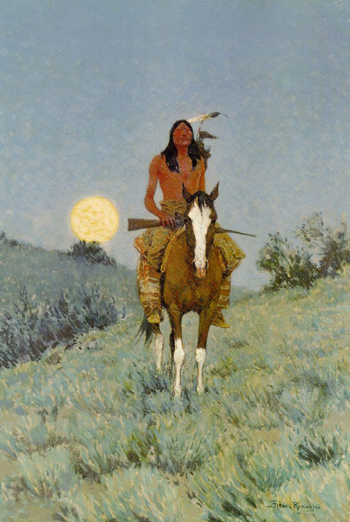 | | |
| --- | --- |
| Artist: | Frederick Remington |
| Created: | 1908 |
| Dimensions (cm): | 68.6 x 101.6 |
| Format: | Oil on canvas |
| Location: | The Brooklyn Museum, New York, U.S.A. |
The Outlier
"Art is a she-devil of a mistress, and if at times in earlier days she would not even stoop to my way of thinking, I have persevered and will so continue." – Frederic Remington
In 1909, well-known artist Frederic Remington painted 'The Outlier', one of his final art pieces before his death that year. The scene conjures a poetic story: The golden sun slowly sets behind the great rider as his horse directs its way over the grassy hill at a peaceful gait; both are finally going home.
The posture of the bare-chested native man on his horse suggests a sense of pride and purpose; the long eagle feathers decorating his long black hair give him a regal air. He holds his hunter's shotgun across his lap, a symbol of a modern way of living in a very traditional culture. The burlap over the horse's back most likely holds the rider's provisions, implying his need for preparedness in the great outdoors.
The thickness and width of the brushstrokes used for the landscape provide a sensation of movement; as though a breeze is blowing through the painting. They also cause a slight blur over the entirety of the canvas, adding the element of the summer's heat waves. The clear blue sky gives 'The Oulier' an aura of serenity.
Review
Author Louis Chapin greatly admired Frederic Remington's work. The following is an excerpt from his book with regard to the artist: "Remington's facts, then, were not so much scenic, or even historic, as they were human. The facts, above all, were "men with the bark on," to use his own blithely chauvinistic phrase - and their horses. Cowboys, prospectors, soldiers, Indians - he gave them such energetic reality that some of them who aren't otherwise occupied seem to be mainly concerned with catching our attention. And they deserve it. Remington's gift was a huge one, a boyish one, a strongly journalistic and illustrative one, coupled easily with his secondary gift for words. It became harder for him to join it with his evolving aspirations as an artist, coaxed as he was by that she-devil. The joining never seemed complete." – Louis Chapin (Great Masterpieces by Frederic Remington)
'The Outlier' by Frederic Remington is located at The Brooklyn Museum in New York, U.S.A.

Home | Art Prints | Art Movements | Famous Artists | Articles