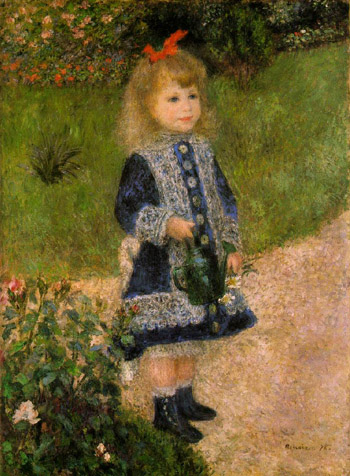 | | |
| --- | --- |
| Artist: | Pierre Auguste Renoir |
| Created: | 1876 |
| Dimensions (cm): | 73.0 x 100.0 |
| Format: | Oil on canvas |
| Location: | The National Gallery of Art, Washington DC, USA |
A Girl with a Watering Can
'A Girl with a Watering Can' is a treasured favourite for many of Pierre Auguste Renoir's fans. Painted in 1876, this delicate and ever-so-feminine oil painting displays a young girl dressed in a blue frock with watering can in hand, ready to tend the garden. The painting is a true reflection of Renoir's most significant recurring theme, living in the moment.
Renoir's masterful brushstrokes give the fabric of the child's dress and the red ribbon in her hair, an appearance of velvety texture. Instead of blending colors into one another on the canvas, the artist delicately edged the hues side by side to create a unique effect, a shimmering illumination. Leaves, flowers, and grass, all possess delicate and intricate details that encourage viewers to take a closer look. The slight, charming smile on the girl's face imparts an impression of innocence to the entire scene.
Pierre Auguste Renoir most likely knew this child, as he often enjoyed capturing memories of moments he shared with his friends and family. His passion for painting carried him well into his late years, even when his hands became crippled with arthritis. Once asked why he still continued to paint with such pain in his hands, he simply replied, "The pain passes, but the beauty remains."
Analysis and Review
"One of Renoir's early portraits, A Girl with a Watering Can, has all the tender charm of its subject, delicately unemphasized, not sentimentalized, but clearly relished. Renoir stoops down to the child's height so that we look at her world from her own altitude. This, he hints, is the world that the little one sees - not the actual garden that adults see today, but the nostalgic garden that they remember from their childhood." – Wendy Beckett (Sister Wendy's Story of Painting)
'A Girl with a Watering Can' by Pierre Auguste Renoir is currently located at the The National Gallery of Art in Washington DC, USA.
Home | Art Prints | Art Movements | Famous Artists | Articles