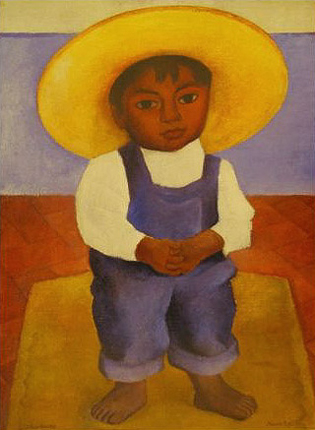 | | |
| --- | --- |
| Artist: | Diego Rivera |
| Created: | 1927 |
| Dimensions (cm): | 39.0 x 79.0 |
| Format: | Oil on canvas |
Retrato de Ignacio Sanchez
Diego Rivera was an artist of the people and for the people. Retrato de Ignacio Sanchez, is an example of Diego Rivera's desire to paint the people that he saw around him. He wanted to paint art that the people of his country would respond to and recognize as their own.

This painting is simple and beautiful. There are only a few colors and they repeat themselves. The little boy stares out at us with an innocent expression on his face of contentment. Although he is young there is something in his eyes as well that suggests he is perhaps older than his years. The way the boy is clasping his hands in front of him also makes him appear older; like a little old man despite the fact that he is clearly a small child of three or four. He is dressed simply. He looks like he is dressed to go out and work in the fields alongside his parents. His face is framed by the large hat he wears.

As well as smaller canvases, Rivera also painted many murals all over the world and especially in his home Mexico. He studied the murals of such famous painters as Leonardo da Vinci in order to become a better painter. He painted the tales of the ancient Aztecs and Mayans. He painted the history of the Mexican people. He painted peasants and laborers struggling too survive. He believed that politics and art could blend together. One of his most famous paintings was the mural he was commissioned to paint in the seventy story RCA building of the Rockefeller's center. This mural was smashed and destroyed because Rivera refused to remove the image of Lenin from the Mural.
Home | Art Prints | Art Movements | Famous Artists | Articles