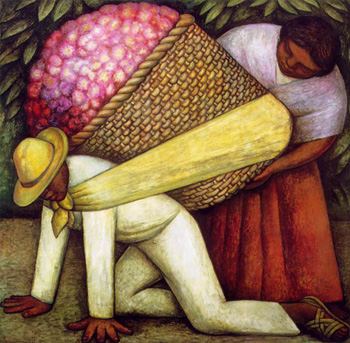 | | |
| --- | --- |
| Artist: | Diego Rivera |
| Created: | 1935 |
| Dimensions (cm): | 121.3 x 121.9 |
| Format: | Oil and tempera on masonite |
| Location: | San Francisco Museum of Modern Art, San Francisco, USA |
The Flower Carrier
In 1935, Diego Rivera masterfully created 'The Flower Carrier' (known in its original language as 'Cargador de Flores'). Like many of Rivera's paintings, 'The Flower Carrier' imparts simplicity, yet exudes much symbolism and meaning. The vibrant colors are rubbed into the masonite, a most common method for painting on hard surfaces.
The colourful painting displays a peasant man in white clothing with a yellow sombrero, struggling on all fours with a dramatically oversized basket of flowers that is strapped to his back with a yellow sling. A woman, most likely the peasant's wife, stands behind him trying to help with the support of the basket as he attempts to rise to his feet. While the flowers in the basket are strikingly beautiful to the viewer, the man does not see their beauty, but only their value as he carries them to the market for sale or exchange. The geometric shapes offer bold and intense contrasts, with each figure, item, and foliage illustrated to reflect individualism. Some believe that the enormous basket strapped to the man's back is representative of the encumbrances of an untrained worker in a modern, capitalistic world.
Analysis and Quotes
"Considered the greatest Mexican painter of the twentieth century, Rivera had a profound effect on the international art world. Among his many contributions, Rivera is credited with the reintroduction of fresco painting into modern art and architecture. In a series of visits to America, from 1930 to 1940, Rivera brought his unique vision to public spaces and galleries, enlightening and inspiring artists and laymen alike." – American Masters (PBS.org)
"If any man can be said to have changed the course of a nation's art single handed, it is Diego Rivera." – Edward Lucie-Smith (Lives of the Great 20th Century Artists)
'The Flower Carrier' is currently located at the San Francisco Museum of Modern Art, San Francisco, USA.
Home | Art Prints | Art Movements | Famous Artists | Articles