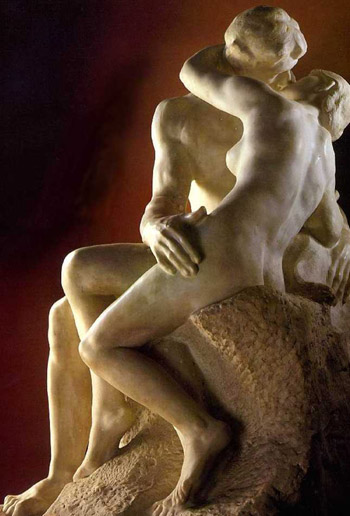 | | |
| --- | --- |
| Artist: | Auguste Rodin |
| Created: | 1886 |
| Format: | Marble |
| Location: | The Tate Modern, Liverpool, England |
The Kiss
While the 'Thinker' is unquestionably Auguste Rodin's most famous work of art, 'The Kiss' is undoubtedly his most exotic – a sculpture that captures a man and a woman engaged in a tender embrace, in a passionate kiss.
The famous marble statue was inspired by "Dante's Inferno", a book that describes the adulterous love affair between Francesca da Rimini and Paolo Malatesta. The two lovers developed a passion for each other while reading the romantic story of Lancelot and Guinevere together. The statue shows Paolo holding the book that sparked their love. This forbidden love affair was the cause of their demise. Francesca's husband, who was Paolo's older brother, discovered their betrayal, and in a fit of anger and jealousy, killed them both.
'The Kiss' represents an erotic, yet tender and sensual moment. Paolo's strong hand rests on Francesca's soft thigh, creating a powerful and meaningful contrast. With natural precision, Auguste Rodin placed light and shadow on the two forms, emphasizing the physical attributes of the bodies and creating a romantic atmosphere.. Rodin had originally displayed 'The Kiss' in the center of the left leaf of the "Gates of Hell." However, it was removed, most likely because its representation of joy and love did not fit in with the rest of the composition's theme. Subsequently, it became an independent work of art. Originally, the statue was titled "Francesca da Rimini", but after a showing in Brussels in 1887, critics suggested simplifying the name to 'Le Baiser' (The Kiss).
Analysis and Quotes
In reference to 'The Kiss', poet Rainer Maria Rilke stated: "One has the impression of seeing the delight of this kiss all over these bodies; it is like a sun which rises and its light is everywhere."
Referring to Auguste Rodin, Kirk Varnedoe (A Fine Disregard) wrote: "He studied not just every man, but every arm, every hand, and even every finger, as an individual entity, in order to build up an atomized repertoire of discrete units of expression."
'The Kiss' by Auguste Rodin is currently located at the Tate Modern in Liverpool, England.
Home | Art Prints | Art Movements | Famous Artists | Articles