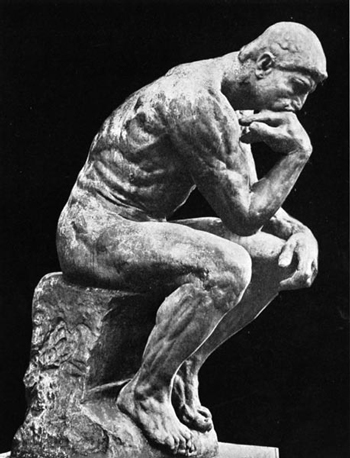 Artist:
Auguste Rodin
Created:
1880
Format:
Bronze Statue
Location:
The Rodin Museum, Philadelphia, U.S.A.



The Thinker
"The Thinker has a story. In the days long gone by I conceived the idea of the Gates of Hell. Before the door, seated on the rock, Dante thinking of the plan of the poem behind him... all the characters from the Divine Comedy. This project was not realized. Thin ascetic Dante in his straight robe separated from all the rest would have been without meaning. Guided by my first inspiration I conceived another thinker, a naked man, seated on a rock, his fist against his teeth, he dreams. The fertile thought slowly elaborates itself within his brain. He is no longer a dreamer, he is a creator." – Auguste Rodin
Auguste Rodin conceptualized 'The Thinker' in 1880, enlarged it between 1902 and 1904, and finally cast it in 1925. It is not only Rodin's most famed work of art, but possibly also the world's most recognized statue. 'The Thinker' is a breathtaking glimpse in human nature. This muscular, bronze man, sitting atop a large rock, resting his right elbow on his left knee, and leaning his head upon his hand, is undoubtedly thinking. Even if you did not know the title of this piece, you would instantly deduce from his posture, his intense facial expression, and the sculptor's remarkable technique in producing body language, that the figure is pondering a weighty issue. 'The Thinker' leaves a long-lasting impression in every viewer's mind.
Because Auguste Rodin originally intended this statue to be Dante in front of the Gates of Hell, there exists a subtle resemblance between Dante and 'The Thinker.' One cannot help but be thankful that Rodin separated them into two very distinct masterpieces.
Review on Rodin
"Technically, Rodin introduced some very important innovations to the history of sculpture. His ability to make his figures lifelike caused him to be accused of modeling his sculptures directly from live subjects. The heightened expressive intensity of his works introduced a whole generation of artists to the potential for expressing internal depth through external features." – Taken from The Rodin Museum website.
'The Thinker' by Auguste Rodin is located at The Rodin Museum in Philadelphia, USA.

Click to purchase art prints by Auguste Rodin

Home | Art Prints | Art Movements | Famous Artists | Articles