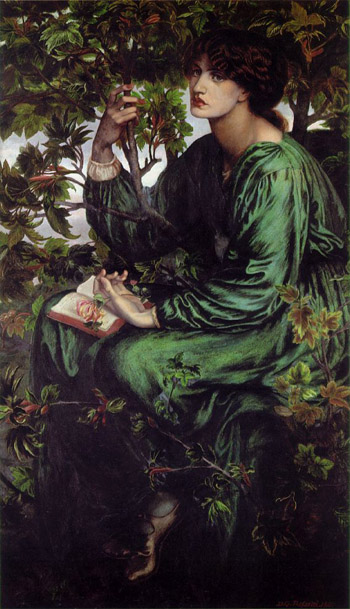 | | |
| --- | --- |
| Artist: | Dante Gabriel Rossetti |
| Created: | 1880 |
| Dimensions (cm): | 92.7 x 157.5 |
| Format: | Oil on canvas |
| Location: | Victoria and Albert Museum, London, England |
The Day Dream
Poet and artist Dante Gabriel Rossetti painted 'The Day Dream' in 1880. At first glance, this painting projects a sense of innocence; it is a beautiful depiction of a young woman sitting against a flourishing honeysuckle tree. However, upon further examination, some have surmised that the image possesses significant exotic and sensuous attributes, opinions that are probably based on the character of its model subject.
The model was Jane Morris, whose infamous reputation appears to have transcended to the painting. Many have speculated that the woman's hand is encouraging the tree's sap to rise. Henry James once described Jane as "guiltless of hoops" - meaning that she was notorious for not wearing the common supports and stays that most women were required to wear in the late 19th Century.
The vibrant colors that Rossetti used, in combination with the intricate brushstrokes found in the leaves, flowers, and buds of the tree, exude the freshness and crispness of late spring. The woman's dress is illuminated with brilliant blue hues.
Sonnet
Dante Gabriel Rossetti often wrote sonnets that were attached to the frame of his works. 'The Day Dream' was no exception; his poem complimented the painting beautifully.
The thronged boughs of the shady sycamore
Still bear young leaflets half the summer through;
From when the robin 'gainst the unhidden blue
Perched dark, till now, deep in the leafy core,
The embowered throstle's urgent wood-notes soar
Through summer silence. Still the leaves come new;
Yet never rosy-sheathed as those which drew
Their spiral tongues from spring-buds heretofore.
Within the branching shade of Reverie
Dreams even may spring till autumn; yet none be
Like woman's budding day-dream spirit-fann'd.
Lo! tow'rd deep skies, not deeper than her look,
She dreams; till now on her forgotten book
Drops the forgotten blossom from her hand.
'The Day Dream' by Dante Gabriel Rossetti is currently located at the Victoria and Albert Museum in London, England.
Home | Art Prints | Art Movements | Famous Artists | Articles